Students give to veterans for holidays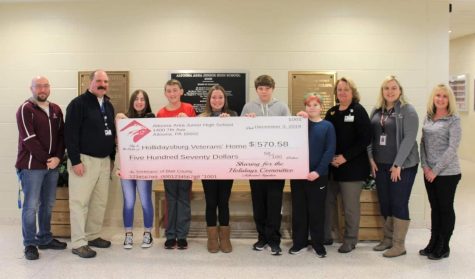 To make it a brighter holiday for the veterans of Altoona and Hollidaysburg, students donated money to the Hollidaysburg Veterans Home. 
 The annual fundraiser started Wednesday, Nov. 20 and ended Monday, Nov. 25. Seventh grade donated the most ($219.33) followed by eighth grade ($191.25) and then ninth grade ($160).
A total of $570.58 was raised and will be donated to the home. English teacher Amanda Kelly encouraged her students to donate. Kelly worked with John Garlick to organize the collection.
"I kind of told them my backstory of how my father and grandfather served, sparked a conversation," Kelly said.
She continued explaining how she encouraged her students to donate.
"We made our posters (down in the cafeterias), and we had it on the announcements, but we were thinking about a poster in the hallways or on each floor," Kelly said. 
"Had we thought it out earlier, we would've put it on JPP," John Garlick said. 
Students were later rewarded for putting in effort with a movie, Spider-man: Far From Home. This effort was put in for many reasons by many students. 
"I donated because veterans do a lot for our country, and I'd like to do something to pay them back," ninth grader Michael Riccio said. 
Even though these efforts were put in, there were also some students who didn't contribute and really wished they had. Although some didn't contribute to this effort they support other organizations.. 
"I did not donate, but I did donate to Toys For Tots. I donated games at Stuff the Ambulance this past weekend to help give children a brighter Christmas this year," ninth grader Emma Feigh said.
Leave a Comment