Roar mugs benefit staff
After school pottery class that are held by and in John King's room, help to teach kids how to make slab clay mugs that are going to be used for staff here at the school. 
The students started pottery class at the beginning of the school year. With the help of the life skills class and the students that signed up for the after school class, many mugs were made for the new coffee cart project.  
Roar mugs is a program supported by a grant to make mugs for staff members. 
"With the help of an AASD grant my classes works with Amy Arthur's life skills classes," King said.
The mugs are going to be put up for sale for teachers to get a cheaper price on coffee.
"Mrs. Arthur is going to sell the mugs her class made with my class and the mugs will provide a discount on coffee the teachers buy," King said. 
There were a total of 86 students who helped make mugs for the teachers. 
"I had 25 kids in my fourth period class 25 kids in my seventh period class and 16 kids in Mrs. Arthur's class along with the 20 kids after school," King said.
With this grant it helps Amy Arthur's life skills class with their coffee chart program. 
"I always like to provide some kind of after school activity involving pottery with my students and helping out Mrs. Arthur's life skills kids it seemed like a great idea to do this," King Said.
With all the students who came to make mugs every week there are close to 100 mugs already. 
"We made about 80 mugs made so far," King said. 
In total there were around 10 the after school pottery classes. 
"I went to all of them, and I made a total of four mugs," ninth grader Alana McKinney said. 
The after school pottery helped students that didn't take pottery as a class a chance to learn pottery. 
"I liked the teacher. I like pottery and find it fun, but I didn't take the class," McKinney said. 
It might have taken some time for students to get used to this if they never tried this before. 
"It was difficult at first; the hand molding isn't hard but wheel was hard to center," McKinney said.  
As of right now the after school pottery class to make mugs is completed.
View Comments (1)
About the Writer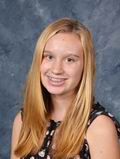 Maddie Cowfer, reporter
Hi, my name is Maddie Cowfer. I am a freshman in high school, and this is my first year on Livewire. One of my favorite things to do is run; I am on the...