Students, teachers handle switch to online classes
School has been closed since March 16 with an original return date of April 6 due to the Covid-19 virus. Now, it is not supposed to resume until at least April 30 under Governor Tom Wolf's newest order.
Since this is a long lapse of time out of physical classes, the junior high and high school have switched to online classes. This is new to a lot of teachers and students alike, and each has noticed how online classes change their daily routines.
Some have found it more difficult to go about their daily tasks with online classes.
"Online school has made my life exhausting in a couple ways because I now have to juggle my home life of watching both my baby brother and younger sister and have school work at the exact same time most of the day. Before they were separate and I could get my work done quicker while in school," ninth grader Henry Loshl said.
Other students say it has given them more time then they would have with regular school in session.
"Now that I have online school, I have more time to sleep in, and I can take my time doing assignments. Since the start of my online classes, I don't have much socialization like I used to, but now I have more time to focus on myself like I didn't have before," eighth grader Anara Zabinsky said.
With the closing of school at this time, some students are worried about what they may miss if school isn't back in session soon.
"It doesn't feel like I got the whole experience of being in seventh grade, you know? Like I won't get to see how the PSSA's would go in my first junior high year. It makes me wonder if I'll miss my last day," seventh grader Cassidy Clark said.
"Not knowing if we will get to go on our year-end trips or have the social this year makes me nervous for what is to come as it's both the ninth and eighth graders last year at junior high," Loshl said.
Along with the students, teachers are also getting themselves familiarized with teaching online.
"Fortunately, all of my students are already on Google Classroom and using Pearson Realize for online assignments. For now, I am trying to keep it simple by primarily assigning review assignments through Pearson as we adjust to this change. This is an adjustment for both students and teachers. Soon we will be moving on to new material and resources," ninth grade algebra teacher Tara Van Caster said.
School is scheduled to be in session after April 30. Students should keep a lookout on their emails from teachers and the principal of the school for updates about how school will continue to be conducted and updates to the schedule.
View Comments (2)
About the Contributor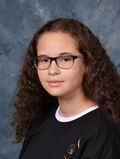 Paris Lawson, Reporter
Bonjour! I'm Paris Lawson, a freshman at the Altoona Area Jr. High School. I am a major geek when it comes to anything about Greek mythology, anime and...