Paws and Claws; Everything about pets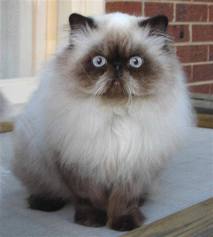 This week's pet is a playful feline named Levi. Levi is a Himalayan cat, and his owner is eighth grader Lindsay Young. Himalayan cats are a very affectionate breed. They like time with their owners to cuddle and spend time together.
"I got Levi because I like cats," Young said.
Himalayan cats need special care when it comes to their coats. They have a high shedding level and need grooming. It's recommended that the cat is brushed every day and given baths. They need special cat food too.
"We give him food, water, treats, baths and take him to the vet," Young said.
Himalayan cats are affectionate with their owners, but not really with strangers or kids. They are also adaptable to their environments too. Overall, they are playful cats. They like playing games with owners.
"Levi climbed inside of a McDonalds bag, and he also ran out the doggy door," Young said.
Young has had Levi for three years. Himalayan cats have a lifespan of 15-18 years. They don't make a good family pet, but are good for one person looking for a companion.
Leave a Comment