Pin It to Win It!
Ever since he can recall, head wrestling coach, Cameron Kyle, has been grappling his whole life. Kyle has coached the junior high Mountain Lion wrestlers for four years now. He hoped to instill a few characteristics into his wrestlers from his previous experiences in the sport wrestling as a young child and high school grappler. This passion fueled his coaching since most of his early years were spent eating, sleeping and breathing wrestling.
Not only does Kyle wrestle five days a week with the Lions, but also has his daughter starting to take part in the sport as she comes of age. Kyle has put his blood, sweat and tears into these matches and practices, but he has lost out on hunting and spending time with his kids. Due to this fact, Kyle has decided to resign as the wrestling coach at the completion of the 2020-2021 season.
This past year has been a struggle for everyone. These resilience Lions pulled through and continued to compete despite low numbers. The Lions lost 21 wrestlers on and off through the season due to COVID-19. The 11 Mt. Lions that made up the team pulled through and adapted to the changes and small numbers. 
Wrestling is a very physical sport. Not only will players have to be in contact in matches but will be in their opponent's proximity. Kyle's team had to adapt to many precautions to keep the sport going without being at risk of illness. When wrestling matches, players wore a mask. Cleaning and sanitizing mats this year continued to be a high priority for competition. 
"Wrestling is more than just two people competing. There's a mental aspect that can bust or crush a kid's confidence, so I'm always worried these kids might get beat real bad and never come back," Kyle said.
He describes his fear, but also a coaching aspect that he wants to teach the kids. Kyle said, "Even if the wrestler fails, there's a reason to get up."
One prideful moment that shows his goal for the coach and wrestlers was the match in Hollidaysburg last season. The Mountain Lions beat them 83-3 in their own gymnasium. Thus, even though they were smaller last year, they still proved nothing can beat a wrestler with dedication and hard work. Kyle sacrifices his personal time to prepare his students in the game and in life mentally and physically. 
"I get away from life for a second," Braiden Weaver said.  "Kyle makes me gain a new meaning to wrestling." 
Wrestling is a prideful sport and Kyle aims to brings the Lion out of each match with heads held high!
Leave a Comment
About the Contributor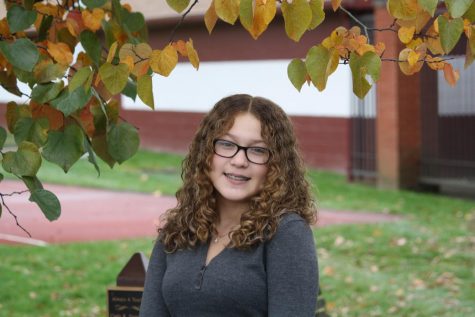 Olivia Wilt, Reporter
Hi, I'm Olivia Wilt. This is my first year being apart of Livewire news staff, and I know I will try my very best. Some of my favorite hobbies are watching...