Hottest Hits: "Shine bright like a diamond…"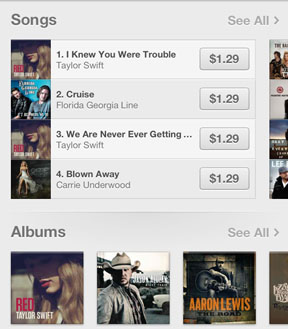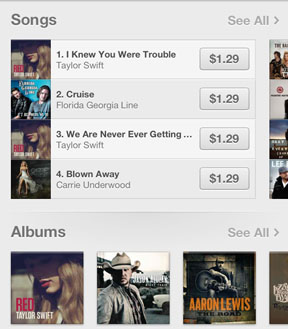 Some of the most listened to songs of this week, according to Hot 100 and other music stations, are "One More Night" by Maroon 5, "Gangnam Style" by PSY, "Some Nights" by fun, "Diamonds" by Rhianna, "Die Young" by Ke$ha and "We Are Never Ever Getting  Back Together" by Taylor Swift.
Taylor Swift just came out with an album called Red featuring Ed Sheeran. Red has 16 songs, like "Lucky" and "I Knew You Were Trouble." Also, One Direction just released their new album, Take Me Home, also featuring Ed Sheeran. Take Me Home has songs like "Rock Me" and "Change My Mind". This weeks number one song is "One More Night" by Maroon 5. It has a rating of 5 stars.
The most listened to songs of this week are not only pop songs, but there are also country, rock, metal, screamo and pop-country. Some of the most liked country songs are "Cruise" by Florida Georgia Line, "Blown Away" by Carrie Underwood and "Wanted" by Hunter Hayes. Also, some of today's newest metal songs are "Coming Down" by Five Finger Death Punch and "Burn it Down" by Linkin Park.
Personally, I like a lot of One Direction's new songs. I like "Change My Mind", "Rock Me" and "Kiss You" the best out of their new album. Out of Taylor Swift's new album, I like the songs "We Are Never Ever Getting Back Together", "Lucky", "I Knew You Were Trouble" and "Stay Stay Stay."
Leave a Comment