Record Breaker
Javelin, shot put and the 100 meter dash. Annalyse Yost has a lot to think about with the seventh and eighth grade track season starting up. Nobody can forget about the incredible performances the track team had last year.  
Eighth grade thrower and sprinter Yost was a key part of last year's team. She currently holds the javelin and shot put record, which she undertook in only seventh grade! Her distance of 34 feet 3 inches in shot put and 77 feet 3 inches in javelin are supernatural! She was also the fastest seventh grader last year in the 100m dash with a time of 14.00 seconds. This year Yost has bigger plans. 
She has some advantages.
"This year, I really know what I'm doing compared to last year," Yost said.
She is going to be one of this year's best leaders. She does her best to cheer on and motivate her teammates. Also, she is a great influence. Yost is hoping to break even more records this year. 
"I really hope to beat my javelin record from last year,"  Yost said. 
She is hoping to achieve anything she can to her fullest potential. With her great abilities, she is expected to perform well. 
 "I am held to a pretty high standard considering my performance last year," said Yost.
Her coaches and teammates expect much out of her. The track team is expecting a pretty large crowd at meets this year due to the talent surrounding this year's team.
While she is a great thrower, we can't forget her sprinting times.
"My favorite event would have to be the four by one," said Yost.
She was the fastest seventh grader last year. Due to an injury, Yost is unsure if she will run again this year. 
 "I don't think it will affect my throwing, but I definitely won't be able to run anytime soon," said Yost.
 Many people are devastated by this, but are still pumped to see her throw.
"I'm unable to influence them as well as I did when I was healthy," Yost said.
She is doing more than just attending practice.
Yost said, "I like to go to the Mansion Park after track practice to get more throwing in."
She still likes to help out her team even with her injury.
"I go to the meets and cheer them on," Yost said.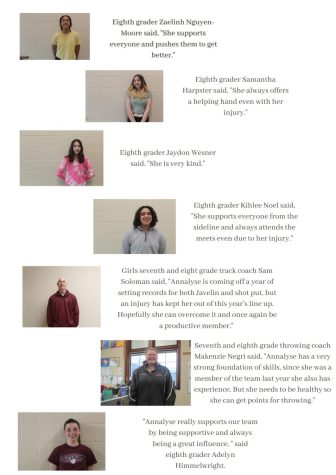 She had been training hard all season hoping to break yet another record.
"Now being an eighth grader we are expected to carry our team to the championships," said Yost.
She is taking full leadership and responsibility for this year's team. Yost does her best to improve her other throwers by giving them tips and motivation. 
Yost is overly determined to overpower her records from last year and lead this year's team!
"My only competitor is myself," Yost said.
View Comments (2)
About the Contributor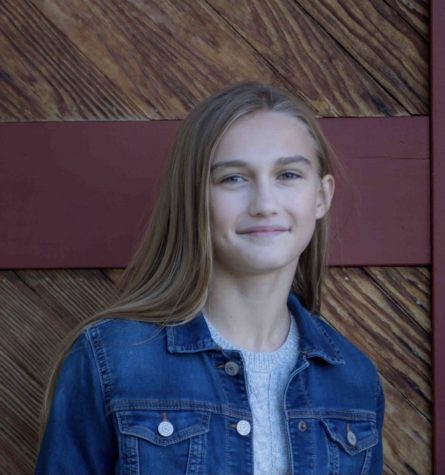 Grace Stadtmiller, Reporter
Hey, my name is Grace Stadtmiller, and I am an eighth grader. I like to spend a lot of my time playing basketball and working out. I also enjoy running...