Multi-Sport Athlete Zae Moore
Confidence, determination, readiness… These are all traits eighth grader Zae Moore acquires as a multi-sport athlete. This very athletic girl has an amazing future ahead. These are traits worth witnessing. 
Moore is a leader…a team player. She feels being committed to a sport takes patience and determination. Staying in shape is her goal by practicing five days out of the week, working out, keeping active and staying focused.
When she practices, she practices hard. She keeps a positive mindset to keep going. She stays focused and doesn't get distracted.
 "She has great instincts in all sports and has great leadership qualities," said Scott Beardinelli.
Moore has an impact on her teammates and the game. This basketball season Moore set the pace of the team. She was captain of the basketball team. She worked hard and played hard, giving her best effort this season. As a captain, she led her team to victory multiple times throughout the season.
"She makes the team reach its fullest potential," said eighth grader Kendall Cogan.
She pushed them during games and practices to keep running, work harder and play good defense and offense.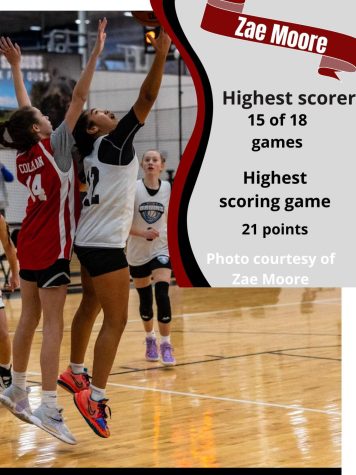 Cogan has played on the court with Moore for two years and has witnessed her potential.  Moore was a point guard for the basketball team. She ran through all the sets with the team. She is the team's best dribbler and passer. As the point guard, her dribbling and passing took them to victories.
She wakes up at 5 a.m. and goes to The Summit before basketball practices. She puts school work first while working out a lot. All the time and effort put in, makes her successful.   
"As a multi-sport athlete, you must work hard towards your goals to achieve them," said Moore.
Her work and effort has paid off throughout this season with shocking results. In the summer league last year against Bishop Guilfoyle, Moore scored the winning foul shots when the pressure was on her. 
Also, Moore participates in track and field as a distance runner. Tuesday, March 29 Moore ran the 3200 meter at a track meet with a time of 13 minutes and 54seconds. She threw the discus as well with a result of  70 feet and 8 inches.
During the fall, Moore was a phenomenal soccer player. She played the positions of a defender and a midfielder. She gives the same effort in soccer as she does basketball. She is quick and always on her feet and ready to take on the next opponent.
"My advice as a multi-sport athlete is to push yourself to your fullest potential and in doing so, you can do whatever it is you desire," said Moore."
Leave a Comment
About the Contributor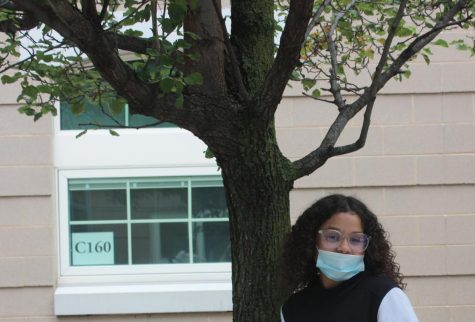 Taniyah Hicks, Reporter
Hi! My name is Taniyah. I am a reporter for Livewire. This is my first year being apart of news writing. Some of my favorite things to do is hang out with...