Carving the Pow: Information for all kinds of snowboarders about snowboarding gear, snow conditions, reviews on snowboards, snowboarding outerwear and just everything about snowboarding.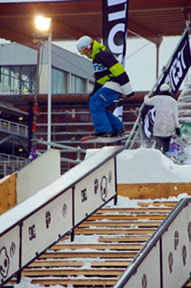 Snowboarding season is about to begin and for some snowboarders it has already begun. Resorts in the western part of the U.S. have already opened. Usually resorts in Pennsylvania don't open until December, or if the conditions are permitting they will open earlier. Most resorts everywhere make their own snow. Blue Knob starts to make snow for some of their slopes in December.
People are starting to prepare themselves for the season. Snowboarders have already started buying their gear. Some online stores hold sales on snowboarding gear and outerwear during the off season. One of the best online snowboarding stores that have really good prices is, http://www.the-house.com/?gclid=CMXSsZnizrMCFY-d4AodxiMA5g.
If you are just starting to snowboard renting boots and a board, Spokes-n-Skis at 315 south Logan Boulevard Altoona, Pa. would be a smart idea. If you rent an adult snowboard package the price will be $195, which may sound like a lot but it really isn't. At this website you can find more information http://www.spokesnskis.com/ . The snowboards and boots are cheap for how new their gear is, and it is worth your time to visit the store. When I rented a board two years ago the board was brand new, and last year when I rented boots they were fairly new and only $65 dollars for the season.
The legacy snowboard by Neversummer snowboards
If you are looking for a snowboard and you have a few years of experience, and enjoy riding the mountain, but not jibbing then the Neversummer legacy is for you. Jibbing is riding on rails and boxes that can be found in a terrain park.
The Neversummer legacy snowboard has many nice features and is good for almost every part of the mountain. The board is an all mountain freestyle board and is softer and more forgiving.  It's harder to catch edge than any other snowboard. Catching edge is when your board digs into the snow and it makes you fall immediately. This is because the edges towards the tip of the board are curved up. Some boards when you ride wobble back and forth and the Neversummer legacy has solved this problem.
This board  is more of a free ride board. I wouldn't use this board for jibbing but if you wanted to hit few jumps you would be alright. It's not really a park board because it is somewhat heavier than other boards, but the weight gives you less of a risk of the board breaking.
The board came with a three year warranty and you could send it to the neversummer factory in Colorado if anything was wrong with your board. This board is a great  for anyone from an intermediate rider to a pro.
View Comments (1)