My Chemical Romance's "Three Cheers For Sweet Revenge!"
In 2004, My Chemical Romance released their second studio album "Three Cheers For Sweet Revenge."
The premise of the album was that two demolition lovers were killed in a gunfight. The woman was supposedly sent to heaven and the man was sent to hell. The man wanted to be with his lover, so he accepted the offer from the devil that if he killed a thousand evil people he would be with his lover.
This album is not suitable for young audiences. Please check with your parents if they are ok with you listening to this album.
"Helena"- Good solid vocals, song that gets stuck in your head and sets up the rest of the album for a darker theme. 7/10
"Give'em hell kid"- Nice fast tempo, starts the album off giving much adrenaline and lyrically good. Drives the story line. 8/10
"To the end"- The first direct song about love on the album. Nice message behind it, gives you good anticipation for the rest of the story. 8/10
"You know what they do to guys like us in prison"- Creepy feeling that fits well, followed with amazing riffs on the guitar from both Frank Iero and Ray Toro. Perfect manipulation of the voice from Gerard Way. 9/10
"I'm not okay ( I promise)"-  Nice message, good vocals and catchy guitar and drums. Overall good song by itself but does not relate to the story of the album. 7/10
"The Ghost of you"- A good song about reminiscing. You really feel the pain from both the male demolition lover and the female demolition lover. 8/10
"The Jetset Life is Gonna Kill You"- Gives off an eerie feeling. Definitely a song that I wouldn't skip if it came on. 8/10
"Interlude"- The only slow song in the album, nice and calming with well written lyrics, wish it was longer but all and all probably one of my favorite songs on the album.9/10
"Thank you for the Venom"- Complete opposite of interlude, this song starts and ends with intense energy that gets you singing and dancing right along. 10/10
"Hang'em High"- Very western type feeling mixed with alternative.  Gerard's harsh vocals in the song adds to the weird mix between the two genres that somehow works. 8/10
"It's Not a Fashion Statement It's a Deathwish"- Extremely enticing guitar riff throughout the entire song. The vibe of the whole album starts to shift to an even more intense theme starting with this song, which works perfectly for the feeling they were trying to achieve. 9/10
"Cemetery Drive"- This song starts the end of the album where we start to see more of a theme that will wrap up the whole album. 8/10
"I Never Told You What I Do For A Living"- The second to last song in the album, this song shows how the male demolition lover feels as he is being sent to hell for his crimes. With an insane beat to drown out the sorrow, this song is a song I will be returning to a lot. 9/10
"Bury Me In Black"- This song is a demo that was meant to release on the album, but never was. It was later released on an album called "Life on the murder scene," which included many live performances of songs from Revenge. This demo is a song from an angry male demolition lover who was sent to hell for his crimes. 9/10
Compared to their album that came out in 2010, "Danger Days: The True Lives of The Fabulous Killjoys,"  Revenge has a mature theme that is heard in the music, while Danger Days has an upbeat sound with mature lyrics.
Overall this album is a good album that gets all different kinds of emotion. One thing that I didn't love about this album though, is the amount of songs on the album that did not contribute to the story. While the songs are good songs, they don't fit the storyline of the album but they do have good messages behind them. My favorite songs just have a certain vibe to them that makes me love them again and again. The way Gerard Way, Ray Toro, Frank Iero and Mikey Way all work together to make a sound that is unique to who they are is incredible.
I'd give this album a 10/10. I think it is amazing how they know what attracts people, but also how to make a good storyline that follows through the album while still giving out a general message to their fans.
View Comments (2)
About the Contributor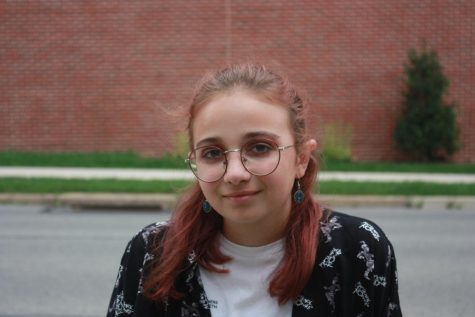 Gaby Sparacino, Reporter
Hey, I'm Gaby Sparacino, an eighth grade reporter. I love to draw, dance, play my viola and play soccer. Ever since I could write, I was always making...