Paws and Claws; Everything About Pets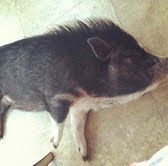 Dogs, cats, fish, the occasional turtle. There are many other kinds pets, but what about a  pig ?Claudia Devoris talks about her pet pig, Donaldo.
"We got Donaldo two years ago," Devoris said.
Most pets get in trouble for going to the bathroom in the house or ruining a pillow. Donaldo got in trouble for something a little different.
"When we first got him he ran under our fence and onto the basketball court next door. He interrupted a game and everyone was screaming 'Catch that wild boar!' I was really scared. I thought he was going to die so I cried . We chased him back to our house and my brother found him," Devoris said.
Devoris is very lucky. Who wouldn't want a cute little pig as a pet? But wait, Donaldo isn't little.
"He was supposed to be 15 pounds, but now he's 90," Devoris said.
In order to take care of him, he has to have a good home and exercise.
"He lives in our house, and we take him for walks," Devoris said.
A lot of kids might plan on going home and beg for a pig now, but that's not a good idea. Pot  bellied pigs are a lot of work. Even as fun as it may seem, they aren't known for a loving personality. Some pigs can even be aggressive towards their owners.
"Sometimes he can be really mean," Devoris said.
Pigs also can be a lot of maintenance. Being that they were first made for farm animals, they are a bit messy.
"Sometimes Donaldo smells bad," Devoris said.
Everyone has certain opinions on pigs. Every pig has it's own personality.
"Most of the time Donaldo is nuts and loving," Claudia said.
Who all wants wants a pet pig now?
Leave a Comment