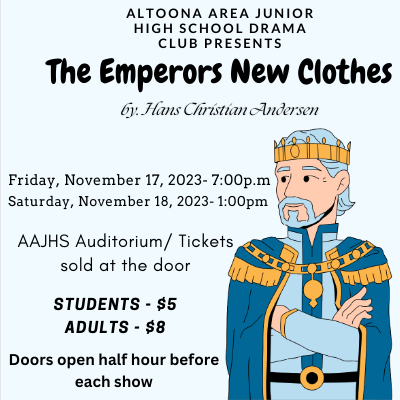 After months of preparation, the drama club is ready to present the fall play, "The Emperor's New Clothes." 
Main cast includes eighth grader Claire Long, seventh graders Dylan Hawksworth, Dominic Sparacino, Everyly Nixon and Natalie Lear and sixth graders Hannah Brooks, Owen Hofer and Andrew Leeper. 
"Last year, I was a smaller role, so I'm just learning how to act and be on stage," Hawksworth said. 
''The Emperor's New Clothes" is a comedy about an emperor who only cares for the clothing that he wears. The Emperor gets taken advantage of when a weaver tells him that they can create a fabric that will reveal anyone unfit to rule the kingdom. 
The drama club puts on multiple shows each school year. Each play or musical is different from one another. Never a repeated play. 
"Students and staff should attend this year's play because it helps fund the school and other plays that we will have this year," eighth grader Gavyn Weamer said. 
This year's fall play will be showing Friday, Nov. 17 at 7 p.m. and Saturday, Nov. 18 at  1 p.m. Tickets are $5 for students and $8 for adults and will only be sold at the doors.