Festive Treat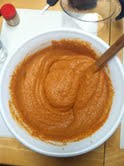 ~A dish to try on a holiday or a special/certain occasion~
Thanksgiving is coming up and friends and families are going to gather today for a big Thanksgiving dinner. Usually people want to make a special dish or dessert for the occasion. They might have a hard time trying to figure out what to make or how to make it and this will help that problem. Pilgrim pies would be an awesome dessert!  These pies are pumpkin cookies filled with cream cheese frosting. These pies take approximately an hour to prepare, make and cleanup.  They're really moist and rich in flavor.  The middle part completes the whole treat.
Here's a list of supplies needed:
 – 2 eggs
– 2 cups of light brown sugar
– 1 cup of vegetable oil
– 1 teaspoon of vanilla extract
– 1 15 oz can pumpkin
– 3 cups of flour
– 1 tablespoon of pumpkin pie spice
– 1 teaspoon of baking powder
– 1 teaspoon of baking soda
– 1 teaspoon of salt
Filling/cream cheese frosting:
– 4 oz of cream cheese, softened
– ½ cup of butter, softened
– 2 teaspoons of vanilla extract
– 4 cups of confectioners' sugar
Directions:
 1. Heat oven to 350 degrees.  Beat the eggs, brown sugar, oil, and vanilla extract in a mixing bowl until smooth.  Stir in the pumpkin.  In a separate bowl, combine the flour, pumpkin spice, baking powder, baking soda, and salt.  Add the dry ingredients to the egg mixture a half cup at a time, blending each time until smooth.
2. Drop a heaping tablespoon of batter onto an ungreased cookie sheet, using a moist finger or the back of a spoon to slightly flatten each mound.  Bake the cookies for 12 minutes, the transfer them a to a wire rack to cool completely.
 3. Meanwhile, making the frosting. Beat together cream cheese, butter, and vanilla extract in a bowl until light and fluffy.  Mix in the confectioners' sugar a half cup at a time, until the frosting is spreadable.
4. To assemble the pies, turn half of the cookies bottom side up and spread a generous amount of cream cheese frosting on each one.  Top them with the remaining cookies. Makes 10 to 14 pilgrim pies.
Leave a Comment