One Direction Infection: "We are the ones staying up all night…"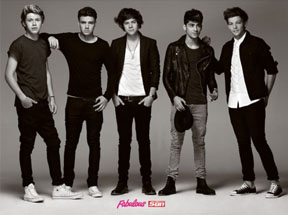 There are five guys in One Direction. This includes Niall Horan, Liam Payne, Louis Tomlinson, Zayn Malik and Harry Styles. They were discovered on the X Factor in 2010, but they did not win. Simon Cowell decided they were too good to let go, so he put them into a group. They are now one of the hottest boy bands in the world. They have already made two albums which are Up All Night and Take Me Home.
Their new album is amazing.  My favorite songs on it are "Little Things", "Heart Attack", "They Don't Know About Us" and "Rock Me."  One Direction is popular all around the world.  Girls and guys all over the world are known to have One Direction Infection.  That is when you are in love with and know everything about them.  I am a directioner, which means that I know almost everything about them and support everyone of them.  Directionators are people who do not support all the members and what they do.
Their first album is called Up All Night.  The best songs on that album are "What Makes You Beautiful", "Moments", "One Thing", "Na Na Na" and "More Than This".  Their first single is "What Makes You Beautiful".  My favorite part of  "More Than This" is when Niall Horan sings "If I'm louder would you see me?  Would you lay down in my arms and rescue me?"
Leave a Comment