The Hunger Games are catching fire once again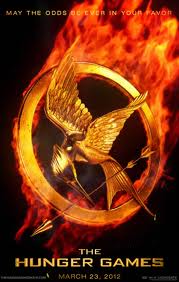 The Hunger Games: Catching Fire will be released on November 22, 2013. This movie is based on the second book of The Hunger Games series written by Suzanne Collins.
The action packed film is about a girl named Katniss(Jennifer Lawrence) who is fighting for the people of her town to stay alive. She has won the 74th annual Hunger Games, along with her partner Peeta(Josh Hutcherson). After they have won, they have to leave their families and close friends once again to battle.
Katniss starts to sense that there is a rebellion starting to make its way into the games. The capitol is still in control, though, as President Coriolanus Snow(Donald Sutherland) starts to organize the 75th Hunger Games.
Suzanne Collins got  the inspiration to write The Hunger Games when she started thinking about Alice in Wonderland. She began her professional career writing for children's television, like Nickelodeon. Collins wrote for books/shows like Clarissa Explains it All and The Mystery Files of Shelby Woo. People should read The Hunger Games trilogy because it has a lot of action, romance and emotion. It doesn't just focus on those topics, though. It also focuses on the people's lives and the battles throughout the Hunger Games.
Because The Hunger Games trilogy was such a big hit in the United States, Lionsgate decided to do movies on this trilogy. The first two movies have broken box-office records and have become the 14th highest sold movies in America at $700 million in worldwide box-offices.
Everyone should watch these movies. They have a lot of action just like the books and have a lot of emotion. People would also enjoy the actors and actresses in the film. They really know how to act out their character and really show how they feel about the Hunger Games.
The books are a very good series to read, too. They are very descriptive and have a lot of information about the characters, the city and the different battles they do. The books also have a great storyline. The second book continues from the first so the readers are not confused and so it makes more sense. If Collins started off the second or third book with a different topic, no one would be able to comprehend what she is talking about, even if they have read the series starting with the first book. Hopefully, this movies will include some action scenes, romance, and lots of partnership throughout the movie.
Leave a Comment