Festive Treat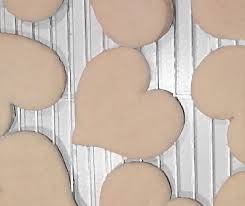 ~A dish to try on a holiday or a special/certain occasion~
 Valentine's Day is here and everyone is going on dates with their Valentine and getting them a special gift.  Why not give a Valentine a nice special treat for Valentine's Day.  For the ones who don't have a Valentine can just make a special treat for a close friend or best friend.  A good thing to make to fit in with the Valentine theme would be Heart Shaped Sugar Cookies.  These cookies topped with vanilla icing and heart sprinkles would make the perfect Valentine treat.  This recipe makes about five dozen depending on how small or how big the hearts are.  Store in an airtight container for freshness.
Ingredients:
1 ½ cups of butter, softened
2 cups of white sugar
4 eggs
1 teaspoon vanilla extract
5 cups all-purpose flour
2 teaspoons baking powder
1 teaspoon salt
Directions:
1. In a large bowl, cream together butter and sugar until smooth. Beat in eggs and vanilla. Stir in the flour, baking powder, and salt. Cover, and chill dough for at least one hour (or overnight).
2. Preheat oven to 400 degrees F (200 degrees C). Roll out dough on floured surface 1/4 to 1/2 inch thick. Cut into shapes with any cookie cutter. Place cookies 1 inch apart on ungreased cookie sheets.
3. Bake 6 to 8 minutes in preheated oven. Cool completely
4. Apply icing and Valentines sprinkles (optional)
Leave a Comment