Maroon teams dominate court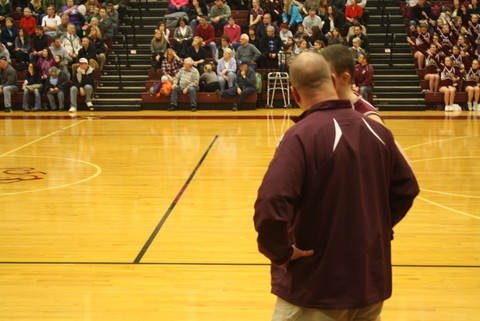 This year has been a ride for the ninth grade boys on the maroon and white teams. They have had their good games, and they have  had their bad games.
The maroon team started off the season going 0-2 but rose to 10-7.
The ninth grade maroon team consists of two guards: Michael Scharf and Casey Sheetz. Five wings: Daquain Watson, Jacob Hord, Trevor Palfey, Michael Duffy and Trevor Miller. Then lastly they have four centers:  Maceo Day, Connor McCloskey, Jarod Kutz and Logan McGeary.
Their coach is Tom Saylor, and he has been coaching for sixteen years. In a regular ninth grade season, the maroon team has twenty games, 9 which are away, and 11 which are home. Due to bad weather, the maroon had lost three of their games.
The maroon and white team have the same rivals, such as Hollidaysburg. This year the maroon team played Hollidaysburg twice, and the first time ended defeat.
"We lost to them by nine point,s and I thought that was a game we could have won," Saylor said.
Along with playing Hollidaysburg twice, the maroon team also faced the white team twice, in a classic spirit-day game. The maroon team managed to win both of these games.
Casey Sheets, a starting point guard for the Maroon team felt he had a good game against their rival, the White team.
"I think I did pretty well, and we had a good team effort," Sheets said.
Throughout the entire season Sheets worked on assisting his teammates, and getting them the ball.
"I focused on passing mostly, and getting my teammates open shots," Sheets said.
After wrapping up their season, the maroon team finished 10-7 and left off on a good foot, by beating the white team in a spirit day game.
The White team started the season off 0-1, but rose to 10-9.
The white team consists of eleven guards: Steve Franklin, Alex Weaver, Jacob Deterline, Bill Ajay, Tyler Skelley, Trey Barr, Zy'ire Kelly, Alex Bowman, John Paul Duffy, Jacob Plunket and Austin Palmerine. Two wings: Josh Russo and Zach Hoover. Then they also have two centers: John Cell and Zeth Osborn.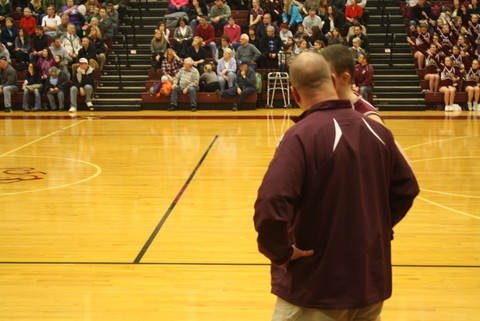 The White team is coached by Vince Nedimeyer, who has been coaching the white team for five years.
Throughout the season, the White team played Hollidaysburg twice.
"Our best games were both Hollidaysburg games. We were losing, and then we did a lot of good things and regained the lead," Nedimeyer said.
Osborn, a starting center for the White team played a big role this season.
"When I'm on defense I play under the basket and on offense, since you're not aloud to play under the basket, I stand on either side of the basket," Osborn said.
This season Osborn worked a lot on both sides of the ball.
"I worked on offense and defense. I worked on steals, and my defense stance too," Osborn said.
Although the White team finished the season 10-11, they kept their heads high and kept looking up.  This year may have had its ups and downs, but both teams remain optimistic and look forward to their season next year.
Gym teacher and White basketball coach, Mr. Nedimyer, stands on the sidelines. He watched his players and saw what they can improve on.
Photo By: Hanna Feathers
Leave a Comment