Drama Queens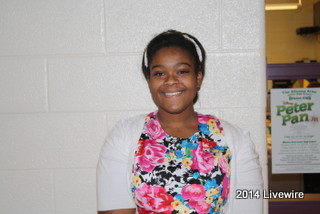 This week's drama Queen of the week is Zhorea McAnuff.
McAnuff favorite class is drama and enjoys the interactive activities that they do in it.  For one, she likes BANG, which is an improvisation game where everyone gets into a circle.  The concept is that someone shoots another person and ducks from the imaginary gunshot.  The people on either side have to shout "bang" and whoever says it first wins.  Also, another improvisation practice activity is Evolution.  It is where they act out the stages of evolution.  It starts at the beginning where they start as emibas, then go to fish.  After that the sequence is frogs, monkeys, humans and the end of everything.  She finds improvisation to be a strength of hers in the class.  Though there is difficulty in memorizing lines which is a polar opposite of improv.
Outside drama she participates in the school swimming and tennis team.  Also, she is involved in the National Jr. Honor Society.  Coming up for the society is THON, which is through the school and is a dance marathon.
McAnuff's favorite actress is Arianna Grande. She likes the fact she has played a wide variety of rules and has many talents that include singing, dancing and acting.  She has even done some work on broadway.  McAnuff's enjoys the play Wicked because she thinks it was funny and liked the musical creations in it.
"It's great choice, makes you more open to others and you can interact with a variation of people.  Drama gives me more confidence when talking to people too," McAnuff said.
Leave a Comment