Festive Treat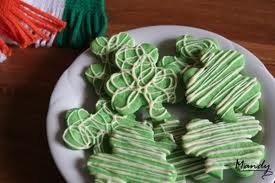 ~A dish to try on a holiday or a special/certain occasion~
 St. Patrick's Day is coming up and why not spend the day making a special St. Patrick's Day treat?  The treat could be given to a friend or a family member.  Try making Clover Cookies and spread the luck around.  They take about two and a half hours to make but this includes chilling time.  Store in an airtight container so they can be eaten days after they are made.
Ingredients:
2 ¾ cups all-purpose flour
¾ tsp. baking soda
½ tsp. salt
1 cup butter at room temp.
1 cup sugar
1 large egg
1 tbsp. vanilla extract
green food coloring
Directions:
1. Measure the flour, baking soda, and salt in a medium-sized bowl.  Stir well and set aside.
2. In a large bowl, cream the butter and sugar with an electric mixer for about one minute.  Add the egg and vanilla extract and mix until well combined.
3. Gradually add the flour mixture to the butter and sugar, mixing after each addition. The dough should be stiff.
4.  Add several drops of green food coloring.  Knead the dough until the color is evenly distributed.
5. Gather the dough into two balls, flatten into disks beginning at the edge of the dough and working toward the center.  Cover with plastic and chill for at least two hours or overnight.
6. After the dough has chilled, place one half on a large piece of plastic wrap, cover with another another piece of plastic wrap and then roll until it is ¼ inch thick.  Lift off the top sheet of plastic wrap and cut out shamrocks, beginning at the edge of dough and working towards the center.
7. Place each shamrock on an ungreased baking sheet.  Heat the oven to 350 degrees.  Bake for eight minutes or until the edges begin to lightly brown.  Remove to a rack to cool.  For particularly festive shamrocks, decorate them with green candles or frosting.  Makes about 34 cookies.
Leave a Comment