Drama Queens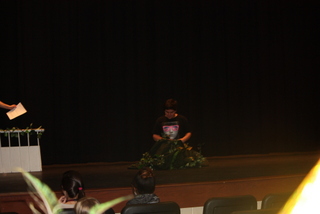 Weekly post with information on the boys and  girls of drama.
 This week drama king of the week is Zackery Detwiler.
In drama, he acts, meets new people and does community service.  In the past he has done community service for Mountain Lion Backpack Program, which benefits children who don't have meals during the weekend.  He also loves all the activities in drama one being, " The Crapper".
Detwiler has also participated in multiple school plays.  He was in Into the Woods as a part of ensemble in eighth grade, Peter Pan this year as Cubby, and outside of school in Pinocchio in Candlewick's Crew.  Outside of drama his favorite class is chorus.  Detwiler loves the environment and involving himself in both vocal ensemble and varsity chorus.
Detwiler's favorite actress is Idina Menzel, because, "she has a beautiful voice, and her acting skills are impeccable."  Also, coincidentally his favorite movie is Frozen, that feature Menzel as a lead character.  His favorite musical is Memphis because," When i watched it I felt some type of connection to it,".
Detwiler's favorite quote is from Klingeman's Directors Note, " What's safer for you: to keep playing in the safety of the nursery or to fly off and begin to explore Neverland? For me… It's Neverland,".
Leave a Comment