Drama Queens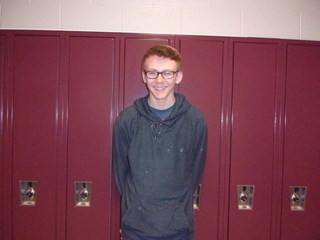 Weekly post with information on the boys and girls of drama.
This week's Drama King of the Week is Jacob Breinich.
For drama he has in the past participated in community service programs.  One being the Mountain Lion Backpack Program where the students put together items for the less fortunate children in the community.
Also, Breinich has been involved in school plays in the past.  For instance, the most recent being Peter Pan.  In this spring  production, he help with the stage crew.  Breinich was excited to be a part of one of his most favorite plays.  He helped form and set up the props for the show.  Additionally, in early years he was in 30 Reasons Not To Be In a Play as a teacher and narrator.  In outside school productions he has been in the Mishler Theater for Pinocchio as an urchin.
In drama, he finds no trouble in using creativity and finding something to improvise in during a scene.  he finds he lacks in coming up with monologues on an individual level.  Drama being his favorite class gives him the chance to hang out with others willing to show their true colors.  It also how him to have " a lot of fun in life".  Outside of the activity he also participates in swimming for the high school.
Breinich's favorite actor is the famous comedian Will Ferrell. he says that  Ferrell reminds him of himself in way that he can be funny and make people smile.  Out of all Ferrell's movies Breinich finds most entertainment in watching his movie Step Brothers with co-star John C. Reily.
" If people want to join they will be able to experience the chance of a lifetime," Jake Breinich said.
Leave a Comment