Drama Queens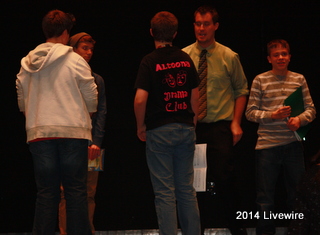 Weekly posts on the boys and girls of drama
 This week's drama king is Mason Ferrucci.  He is new to the drama world only starting this year.  He participates in the class itself and has started dipping his feet in being in play productions.
This year was the school's big spring production of Peter Pan Jr. that brought out crowds of people.  In this production Mason tried out for the role of Nana.  Nana in Peter Pan is dog nurse to the Darling family children and looks after them.  Ultimately Ferrucci eagerly played the role and absorbed the spotlight.
With drama being Ferrucci's favorite class there are many things he looks forward to in the school day.  One being Mr.Klingeman himself.  He especially loves the productions Klingeman has been in and participated in himself.  Ferrucci has learned many things about drama but a key component is stage production.  In stage production they learn the true process and how everything is made.  Everything that comes together in the end is a result of stage production.
When doing activities in the class Ferrucci finds himself comfortable participating in improv.  He is all about joking around and thinking fast so this comes easy to him.  Recently he discovered the difficulty he has with doing monologues.  The classes had to do monologues and each one of them was unique.  Ferrucci was faced with the task of playing the part of a girl who was physically abused and when returning to school got criticized for it.
With the hundreds of masterpieces out there one of Ferrucci's favorite plays is Phantom of the Opera. This is a musical about a love triangle and a haunted opera house.  It is suspenseful and can make anybodys heart race with the nail biting plot lines.
View Comments (7)