Festive Treat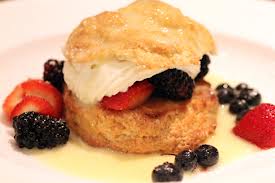 ~A dish to try on a holiday or a special/certain occasion~
 Monday is a special day, Memorial Day.  This day many people honor and remember those who died for our country. On this day many families have family picnics, eat food and play outside in the nice weather.  So why not try to make a special dish to bring to the family picnic?  Try making Berry Shortcake, a nice treat for Memorial Day and a nice Spring treat.  Store leftovers in an airtight container when done.
Ingredients:
2 cups sliced fresh strawberries
1 cup fresh blueberries
2 tablespoons sugar
Shortcake:
1 cup all-purpose flour
¼ cup sugar
1 tablespoon sugar
½ teaspoon baking soda
dash salt
¼ cup cold butter, cubed
⅓ cup milk
¼ cup sour cream
whipped cream, optional
Directions:
1. In a small bowl, combine the strawberries, blueberries and sugar and set aside.
2. In a large bowl, combine the flour, ¼ cup sugar, baking soda and salt. Cut in butter until mixture resembles coarse crumbs. Combine milk and sour cream; stir into crumb mixture just until moistened.
3. Spread batter into a greased nine inch pie plate (batter will be thick). Sprinkle with remaining sugar. Bake at 350 degrees for 16-20 minutes or until a toothpick a toothpick comes at clean. Cool on a wire rack for 10 minutes; cut into six wedges.
4. To assemble, cut each wedge in half; place bottoms on dessert plates.  Top each with berry mixture. Replace wedge tops. Garnish with whipped cream if desired.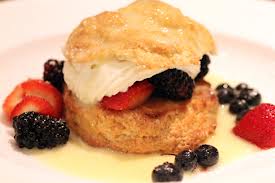 Leave a Comment