Penn State students transform into teachers
More stories from Cameron Havens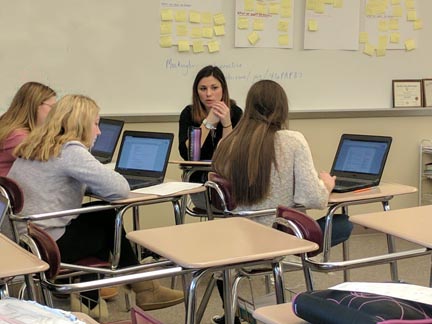 Some young children aspire to become teachers when they grow up, but they may not realize the extensive requirements needed to fulfill such a dream. In addition to observations, necessary coursework and Praxis exams, prospective educators must complete student teaching.
"Before student teaching, students study educational theory and methods and become familiar with field practice through volunteer activities, school observational visits and part day practicums," Pennsylvania State University Student Teaching Supervisor Hazel Stryker said. "Pennsylvania requires student teachers to meet certain expectations on content related tests and successfully meet benchmark evaluations during their practicum in order to apply for state certification once they earn a bachelor's degree."
Student teaching typically occurs for a semester or two marking periods. During this experience, college students become teachers for the first time while under the guidance of mentor teachers and university personnel. Student teachers already completed observations and pre-student teaching in the fall, and they are now back to fulfill the role of teacher for the spring.
"Student teachers experience all the roles a teacher is expected to fulfill – showing up dressed as a teacher, planning, teaching, grading, taking roll, attending meetings and assisting students learn," Stryker said.
Before arriving at this point in the process; however, student teachers had to decide they wanted to become educators. Some chose teaching because they had experience with kids and/or learning.
"I initially chose this major because of a gut feeling, but I think it intensified as I got better experience with the students and the content being taught," ninth grade Spanish student teacher Paul Lamdazuri said. "That's sort of what inspired me to become a teacher in the first place."
He also credited technology and inspiring teachers as contributing to this career choice.
"I went to a fairly diverse school; we had students from everywhere. Upper Merion, our school, incorporated a lot of technology. Classrooms included smart boards, and my first year there we started a one to one program, which continued throughout the year," Lamdazuri said. "My teachers were excellent, and my Spanish teachers from my junior and senior year fueled my idea to become a teacher."
In addition, some student teachers chose to become educators to improve the secondary education setting based on their own classroom experiences.
"I was a teaching assistant (TA) for a biological sciences class, and the professor was a really cool person," ninth grade English student teacher Courtney Bauer said. "TA's really just grade papers and take attendance, but the teacher was really nice and allowed me to teach labs once a week."
Students are currently in the process of applying what they have learned in university classrooms to their own teaching environments. Some student teachers are interested in incorporating their own personalities into their lessons.
"I like humor and being silly, so I feel like I will be able to bring that into the classroom with fun activities. Especially with poetry because there are a lot of fun poems out there," Bauer said.
"I strive to provide an opportunity for student teachers to have fun as they learn how to successfully complete their first, second and third marking period," Stryker said.
As these college students develop their teaching personas, they will also face challenges.
"So far, it's hard because I'm not technically a teacher yet, but a challenge, in my opinion, is probably when you need to be a little bit tougher and organizing everything for all of the classes and students," ninth grade biology student teacher Amanda Rees said.
Working alongside a mentor teacher can help budding teachers improve and develop.
"Mostly I have learned how to be organized and be confident," Bauer said. "I learned classroom management and how to live a happy and healthy life inside and outside the classroom from my mentor."
Student teachers also work with their supervisors to improve teaching fundamentals. When college students are not teaching, they attend classes and communicate with their advisors on all aspects of the experience.
"I oversee student teachers' full-day field experiences and hold a weekly seminar/class on campus," Stryker said. "I try to observe one of their lessons weekly. I look for evidence of preparation, pleasant and professional interactions, agendas with openers and summary activities, moreover, instruction and objective-directed learning activities. I also affirm clear communication and coach student teachers to manage learning and behavior with positive reinforcement or praise when students try their best or meet expectations."
Changing from student to teacher is an extensive process, and there are challenges, but the outcome can be vital to a teacher's success.
Leave a Comment
About the Contributors
Cameron Havens, News Group Leader
My name is Cameron Havens, and I am a 15 years old and a ninth grade honors student who is currently part of Mrs. Vanish's news writing class. I help contribute...
Jolee Smith, Photographer
Jolee Smith is a 14 year old student at the Altoona Area Junior High School. She is a member of The National Junior Honor Society, and is new to the Livewire...