Schools struggle with suicide prevention education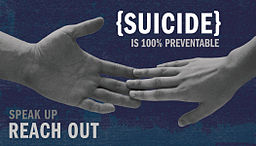 According to the Jason Foundation, 5,270 children between the ages of 12-18 years old attempt suicide each day, in the nation. Suicide has been a pressing topic among the Blair County area after a recent suicide at a nearby school. The passing of the student was mostly spoken about through social media and throughout friends and was something that the administrators of the Altoona Area School District did not address in a formal manner such as an announcement or an assembly.
"I honestly didn't even know that there were any suicides," eighth grader Nick Campbell said.
"You know in all honesty it's a tough thing. We often ponder whether having an assembly has the intended effect of being able to reach out to more students to get them to either refer somebody or get help for themselves," ninth grade assistant principal Jerry Koehle said. "Or if it has the effect of bringing into the limelight something that recently occurred, and it kind of romanticizes the concept. There are so many different ages here at the junior high something that would be appropriate for the ninth grade level may not be so appropriate for the seventh graders."
Some believe that more should be done to raise awareness about suicide.
"I think that they do a good job on certain things but other things if it was like a big deal, they would've made a shirt, probably made a day cancelled or delayed or taken a moment of silence," eighth grader Javionne Davis said
"I feel that they do not do enough assemblies for it, and they probably should because it's a big and serious issue," ninth grader Stevie Webber said.
While others believe the lack of awareness brought to it is the fault of the students.
"I feel like the school could somewhat do better. It's hard to tell, but some kids are actually depressed and thinking about suicide but  they don't talk about it. It's hard for the school to actually prevent it when kids don't actually talk about it," eighth grader Dylan Igoe said.
Other people felt as though the student body is supportive after the event of a suicide.
"I think a lot of students are very supportive. Like there was a suicide of one of our friends of our class, his old friend committed suicide and we wore purple for awareness," eighth grader Mackenna Murphy said.
The school does have organizations such as Aevidum and SAIT in order to give students encouragement. Guidance counselors are also available at any time to help students.
National Suicide Prevention Hotline: Call 1-800-273-8255
Available 24 hours everyday
View Comments(1)
About the Contributor
Lydia Newman, Writer
Lydia Newman is a freshman at Altoona Area Junior High School. Along with Livewire, she is in reading competition and is a sound and light technician for...