Staff members retire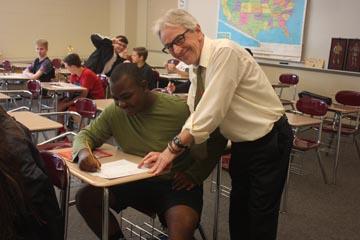 As the school year comes to an end so do some faculty members' careers. The people set to retire are: American Cultures teacher, Don Church, Secretary, Lynnette Clapper and special education aide, Betsy Miller.
Clapper has been a secretary for 47 years. Clapper's plans after retirement include: enjoying her family, travelling, reading, volunteering, and relaxing.
She has been working in the district for a long time and has made many memories.
"I will miss the friends I've made throughout the years, learning the technology as well as learning something new every day," Clapper said.
After 21 years of working for the district, Miller will be retiring this year. Miller plans on getting involved with some type of ministry in order to help others. She also plans on spending time with her children and grandchildren. Miller has experienced a lot throughout her time in working for AASD.
"To pick out one specific memory would be very difficult.  I have so many great memories through the years,"  Miller said.
Don Church has been teaching for 28 years. He began his career as a teacher at Roosevelt Junior High then after it closed he proceeded to teach at the AAJHS.
After many years of teaching, Church finally decided to retire and pursue other goals. Starting first, with his new dog, a collie named Brooklyn.
"We're going to have her certified to be a therapy dog, and I'm going to visit the old age homes, the vets home and hopefully children's hospital in Pittsburgh and share her with those who might feel better with her company," Church said.
Church also intends to become a political activist with a friend of his. He will be travelling around expressing his political views.
"I will miss some of my closest and dearest friends, and I will miss seeing the lightbulb go off on a kids head when he finally gets it that – and I still miss Roosevelt," Church said.
If any student is to run into one of these staff members, be sure to bid them good fortune on the next chapter of their lives.