Rachel's closet opens doors
Rachel Scott has influenced many people across the world. Students have been influenced to stop bullying and start a chain reaction. 
AAJHS recently opened Rachel's Closet on Friday Feb. 21.  Rachel's Closet originated from a school in Pennsylvania wanting to create an atmosphere that made students feel like themselves. 
"We [the Rachel's Closet Committee Members] collaborated about it last year and saw the need for students to have clothing that is warm, comfortable and fashionable. Rachel's Closet is an in-school store with free items to give to students who might need clothes, personal items or school supplies.  It was inspired by Rachel Scott's vision of helping others and providing an inclusive, positive school environment," Rachel's closet committee member Susan Smithmyer said.
Rachel's Closet is a place where students are able to get clothing, hygiene products, school supplies and toiletries.
"Rachel's Closet has so many items. There's boys and girls clothing, hats, gloves, shoes, formal dresses, school supplies and personal hygiene products.  There are also accessories such as earrings and necklaces. It's like a whole department store right in our school," Smithmyer said.
The closet is a place where students are not judged.
"Rachel's Closet is extremely comfortable, welcoming, and private.  There's truly a piece of clothing for everyone and every style. There are curtains in the windows to provide privacy for shoppers," Smithmyer said.
Students are encouraged to shop.
"A lot of my friends are always saying how their parents don't have good jobs and have trouble with their parents and don't have a lot of money. I've told a lot of my friends that they should visit Rachel's closet," seventh grade Abigail Socie said.
Rachel's Closet is open Thursdays after school from 2:45-3:15. A counselor or teacher is available if anyone needs to shop during the day.
More information can be found on the Rachel's Challenge website.
View Comments(1)
About the Writer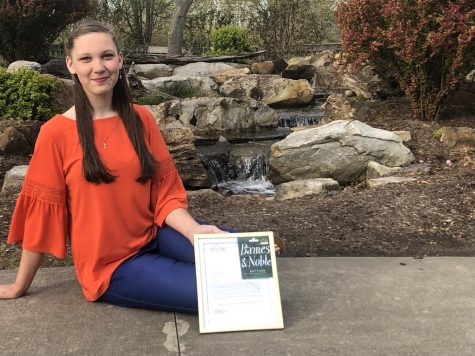 Danielle Bardelang, Reporter
Hey! I'm Danielle Elizabeth Bardelang, a freshman at AAJHS. I hold the titles of Student Council Vice President, National Jr. Honor Society (NJHS) President...