The must see movie of the 90's
"Life is like a box of chocolates, you never know what your gonna get." This memorable quote makes most people think of "Forrest Gump" (1994) a must watch for movie goers. 
This movie is certainly a tearjerker in some scenes, and in other parts you will laugh your head off. This film was directed by Robert Zemeckis and includes Tom Hanks, Robin Wright, Sally Field, Gary Sinise, and several more. In addition, it includes many great themes. For example, one evident message conveyed to viewers reminds everyone to never give up on yourself.
 I loved this movie simply because of how fun it is to watch; boredom will never set in during the film. The plot of the story has many events and much detail to it as it jumps back and forth between Forrest (Hanks) telling the story of his life from his childhood up to his adulthood. The movie shows flashbacks of his life as he is sitting on a bench waiting for a bus while talking to individuals. The complex story depicts when he goes to war in Vietnam and gets shot in the buttocks, and then how it led to him starting a shrimping business. A funny scene to add to this was when Forrest and Lieutenant Dan don't catch any shrimp the first couple trips shrimping. 
That is why I would highly recommend watching the movie instead of having it explained to you. This movie falls under the genre of drama and a romance. The rating is PG-13 due to  some material possibly not being suitable for children. In my opinion, the content may not be super graphic, but if your child is not a teenager, I would recommend a parent or guardian further investigate the film before allowing his or her child to view the movie.  The run time for the film is 142 minutes long. 
This movie has many strengths including how it tells the story and how smoothly it transitions from event to event. An example would be when it shows Forrest going to school and meeting Jenny (Wright) for the first time. The film continues to cover how they remained friends all the way up through high-school. There was only one part that I thought should have been directed differently, but I do not want to give away any spoilers. I would say that the target audience would be teens and adults because I feel like there are many scenarios in the movie where so many people could probably relate to in their lives. I would for sure rate this movie 4 out of 5 stars; I think this movie touches many hearts!
Leave a Comment
About the Contributor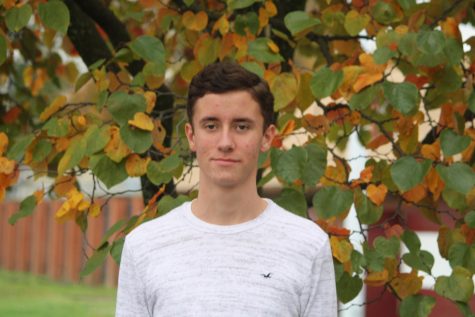 Brandon R. Lyle, Reporter
Hi, I'm Brandon, and I'm an eighth grade student at the junior high school and this is my first year writing for Livewire. I participate in cross country,...