Students should be given free admission to sporting events
I slammed my locker shut and walked down the halls with my friends. We go down the stairs and are talking as usual.
"Hey, do the boys have a game today after school?" Skylar asked.
"Yeah I think so; we should for real go," said Joie.
In my head, I was mapping it all out. I didn't have practice, no appointments were scheduled, and my room was semi-clean, I can go! I got my phone out and shot a quick text to my dad asking if I could stay after school.
He then replied within a minute with his usual, "thumbs up" Emoji.
I told everyone I could go, so we went to Sheetz before the game started.
We stayed there for about half an hour, then rushed back to the school so we didn't miss the game.
We stepped into the school, and there it was. The ticket booth.
Oh. My. Gosh! I can't believe I forgot about the money! There was no chance I was getting in that gym without $2.
We were all frantic! We asked everyone around us, but apparently, people don't enjoy giving their money to teens, so we were denied.
At this point, I was crawling on the floor trying to find stray bills just laying there. Just for the record, it doesn't help when teachers are yelling, "get your money out!" Yeah, I'm trying my best.
We were at a loss, and just as I was about to call someone for a ride home, I saw the world's best art teacher hand $2 to Vionna.
"Yes!" We all thought.
"Mr. King, you're a lifesaver!" I said.
We'll pay you back I swear!" said Sylvie.
We ended up getting all our tickets and enjoyed the game, but I always wonder why I had to even deal with any of that in the first place.
If we didn't have to pay for admission to athletic events, then we could have saved ourselves all this struggle and saved our money.
I wonder what would have happened if eighth grade art teacher John King didn't save us?
I wouldn't have had a ride since my parents have jobs. I would have had to walk somewhere to wait till 5:45 p.m. by myself until my mom gets off work. Not only is this all a nuisance, but it's also not safe.
I wish I could say that stories like this don't happen to me often, but I can't. At school, a student should never need money for something unless it is a dress-down day or something as such. The school has these extracurricular activities, especially for students. They host these events in hopes that kids will come to watch them.
Although these money issues shouldn't be taken out on the kids, there is an alternative. A student could buy an athletic pass in the office at any time of the year. The card is $20, and it can get you into all sporting event instead of paying admission for each event attended.
Some faculty members are against not paying to get into a sporting event.
Eighth grade American cultures teacher Elizabeth Bronson said,
"It's almost every school in the entire state, or at least in Blair County. You have to pay to get into an event."
Although the money has to pay for the coaches, referees and workers, could we still have enough money by just charging adults? If not, we could even set up a snack booth to bring in more money! This is one of many possible steps to be taken around the financial issues of the school.
Adults now are always on kids' cases about being sucked into their phones. They want us to branch out and go places and have fun times. Going to support your school athletes is a perfect way to go somewhere other than a screen and to show that you want to support your fellow students at games.
Now, most kids want to go! There have been so many times when I have seen other kids after school who want to watch the sporting events, but can't. Why? They don't have money on them! Basically making students pay to get in is teaching them to not be social, don't support their school and don't have fun. Adults today blame us kids for the way that we act, but guess who enforced these rules in the first place.
The bottom line is that we shouldn't have to pay money to do something that will help our school thrive. Our school should give free admission to students to any sporting event. We are only doing the best for the school, and in return, we get our money taken from us.
If our school wants to see a change in the student's behavior and participation, then they need to let us. It may only be $2, but small things always add up.
View Comments (3)
About the Contributor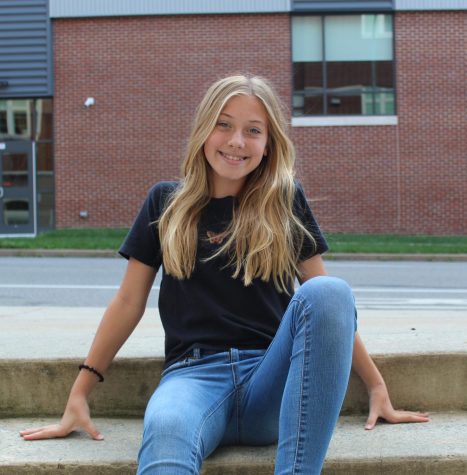 Ingrid Steward, Reporter
Hi! My name is Ingrid Steward, and I am a news reporter.  I love sports outside of school; it is one of my most favorite hobbies, especially soccer and...