WHAT'S THE 411?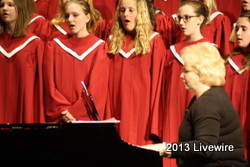 Stay up to date with current events in school!
Keystones- The Algebra I math Keystones took place Dec. 4-5 for ninth graders.
Sharing for the Holidays- The ninth grade fundraising committee is helping to collect money during lunch hours. The grade with the most money collected will win a reward movie. In a stunning upset, the ninth grade class came from behind and won the reward movie.
Book Fair- The Scholastic book fair took place on Dec. 9-13. Students had the chance to browse and purchase books during their English classes.
Concerts- The holiday jazz band concert was held on the tenth at 7:00 P.M. The seventh grade chorus and orchestra concert was held on the sixth at 7:00 P.M. The Varsity Chorus and Vocal Ensemble was also held on the third at 7:00 P.M.
Tour dates:
Vocal Ensemble, Jazz band And Orchestra Chamber:
 Wednesday, December 18, 2013 – Juniata Elementary School
Report directly to band room – return to school at 10:55( report to 5th period class)
Thursday, December 19,2013- Pleasant Valley and Juniata Gap Elementary School
report directly to band room – return to the school by 3:30pm
Friday, December 20, 2013 – McAullife Heights ( meet at school at 7:30 am – return to school 10:55am)
Ninth and Eighth grade string orchestra and symphonic dress rehearsal schedule:
Monday, December 9th:
ninth and eighth grade strings only-  3-4:30
Wednesday, December 11th:
ninth and eighth grade strings only-  3-4:30
Dress Rehearsal:  Monday, December 16, 2013:
Symphonic orchestra:         3 – 4pm
ninth and eighth grade strings:   4-4:30pm
Chamber:         4:30-5pm
String Quartet:     5- 5:20pm
Symphonic Orchestra Concert:  Tuesday, December 17, 2013
Individual picture
(optional and at your expense) 5:15pm
Yearbook Picture( everyone! Not optional) 6:00pm
Concert 7:00pm
Tickets at door $3.00
CD's available for purchase
Leave a Comment