Dancing Divas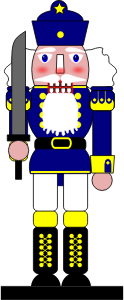 Dancer's from Altoona Dance Theatre Company have been performing excerpts from the holiday classic "The Nutcracker" at many local elementary schools. The dancers get out of school for this whether it'd be a few mornings or afternoon classes they'd have to miss.
 Their goal with this is to inspire others with performing arts and get them familiar with the ballet.
 Before the girls and boys perform for the students, the artistic director, Renee Stains, gives them a little run through as to what's happening in the ballet. After the show, they allow students to come up and ask questions and the dancers introduce themselves.
 "I think it's a great opportunity, especially when you get to perform at your old elementary schools, like I did. It was great to see the smaller kid's reactions when you are up on stage dancing. You really feel like you're making a difference," ninth grader Sami Rossman said.
 Most students in the audience get involved while they are dancing and are blown away by the talent of these young dancers.
 "I hope they learn about performing arts, the holiday classic The Nutcracker and a little history behind it. Also, how important performing arts is, as well as how well disciplined and graceful dancers are," Stains said.
 The dancers have worked many hard hours to put The Nutcracker together and it definitely shows.
You can see them perform it live at the Jaffa Shrine on Dec. 13. Tickets are only $12, and you can buy them at the door. You will see many familiar faces from our school, they hope to see you there!
Leave a Comment