Beauty blogger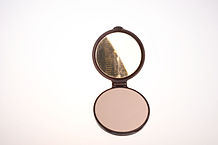 This week's product is: Dream Bouncy Blush by Maybelline
This blush is not like an ordinary blush. The blush has a powder-gel formula that makes it last all day long. When first applying, it feels like powder, but as you begin to blend it turns into a cream.
It comes in a total of ten colors. I purchased mine in Plum Wine for the winter months. The colors are very sheer, so for a natural look apply like you normally would. If you want a more dramatic look, layer it on. It is super easy to work with and it can be applied with your hands. It keeps things quick and easy in the mornings.
When you find a good blush, you should stick with it. The many colors make it easy to do that. All of the colors are perfect for anyone's skin tone and for different seasons.
Maybelline is a drugstore brand; it makes it easy for you to buy this product almost anywhere make-up is sold. It costs about $7 too. The packaging is very small so it is great for traveling. A huge plus is it is in a gel form in the packaging. That is a plus because you don't have to worry about it crumbling and wasting your money. Now when you travel, you won't have to worry about it cracking and spilling all threw your bag.
There are so many shades anyone would love this. It is fast to apply, cheap, and easy to get. It also holds up to what the company says it will do.
Leave a Comment