Healthy recipes for students on the go!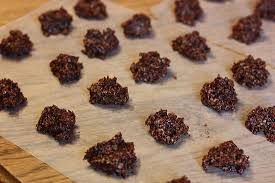 As a person in love with anything sweet, it's hard to resist those tasty desserts at family dinners or a sleepover with friends. But, making something healthy and sweet isn't always the best thing when a person doesn't have that much time. If the student is a big fan of no bake cookies, they will love this spin off version. Not, only does this recipe have less fat and sugar, but it gives a good source of protein to a diet. This recipe is called "Oat and Chocolate Clusters." Go to allrecipes.com for more easy and healthy recipes for students on the go!
Ingredients:
¾ cup of rolled oats
2 tablespoons of peanut butter (Jiff brand works the best)
¼ cup of semisweet chocolate chips (dark chocolate)
2 tablespoons of 2% milk
Directions:
Grab a saucepan to heat peanut butter, chocolate chips and milk. Heat for three minutes. Make sure that the chocolate chips are melted. Then, add oats into the saucepan and stir. Remove the mixture from heat. Then, make a ball shaped cookie and place it on wax paper. Use a spoon or small ice cream scooper. Place in the refrigerator for at least ten minutes. This recipe makes 8 clusters. Enjoy!
Leave a Comment