Did someone say food?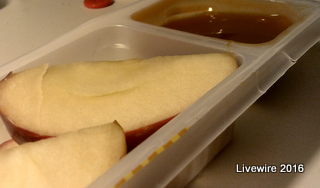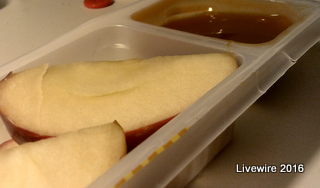 Snack Fast  
Weekly suggestions and seasonal recipes.
January is coming to its end, and it is a new year.  People sometimes get hungry between meals or before they go to bed and may be looking for something quick and easy.  Some people might enjoy ants on a log, but if they don't like celery why not apple slices with peanut butter or caramel instead.
Everything needed can be found at Walmart or Martins.  For ants on a log gather celery, peanut butter, and raisins or trail mix. First, wash the celery and cut the bottom off so now the celery is all apart.  Then cut the stalks of celery in half and also cut the leaves off.  Now just spread peanut butter on the celery stalks and put raisins on top.  For those who don't like raisins consider putting trail mix.  If anyone is allergic to peanut butter, just eat the celery and the raisins.
Now for the apples with peanut butter or caramel; purchase apples, peanut butter or caramel.  First, wash the apple off under warm water.  Next, use an apple slicer to cut the apple into eight slices.  Without an apple slicer just take a knife and cut the apple in half.  Then cut those two halves in half, and then cut those four pieces in half.  Then cut the stem off and the seeds out.   Now the apples are sliced and ready to dipped in peanut butter, but if anyone is allergic to peanut butter that's what the caramel is for.  Now if people don't like either, than just eat them plain.  
These quick little snacks are very quick and at the most would take you ten minutes to make.  Not only that but they would make easy snacks for birthday parties or even for when friends came over.  Interesting fact, the snack name ants on a log was first used in the 1950's.  That's it for this week's suggestion, enjoy.
Leave a Comment