When escaping the labyrinth…
More stories from Lydia Newman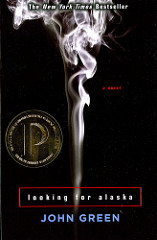 Looking for Alaska is a book by New York Times #1 Bestseller, John Green. (Also the author of The Fault In Our Stars, Will Grayson and much more.) Dutton Children's Books published Looking For Alaska, March 3, 2005, and it has been read all over the country, including in many English classrooms since.
Looking for Alaska follows a young boy named Miles Halter and his endeavor to escape "The Labyrinth" by attending a not-so average, boarding school in Alabama. There Miles meets friends, The Colonel, Takumi and Alaska. With that his life begins to change.
Looking for Alaska is a thought altering story, that'll keep any reader on his or her toes. In the book, John Green portrays all aspects of the kind of fun today's teens crave and relates to the average young adult's life.
Looking for Alaska is easily one of the greatest books of its time. Anyone will love the slang used and the easy-to-understand language throughout the book. The author includes a perfect mix of sophisticated and fun in his writing  to style to challenge the reader's mind but keep them interested.
The only negative part found in the book was the yearning desire to further understand Alaska and why she made some decisions that she did.
From telling deep secrets to friends to pulling pranks on adults, John Green accurately depicts the best parts of anyone's teenage years. Tears and smiles will be brought to to those who read this book, along with an amazing urge to go have fun. This book is definitely worth the read.
Leave a Comment
About the Contributor
Lydia Newman, Writer
Lydia Newman is a freshman at Altoona Area Junior High School. Along with Livewire, she is in reading competition and is a sound and light technician for...