Cooking with Facts
~a blog for those who want the info., the ingredients, and an ideal run-down~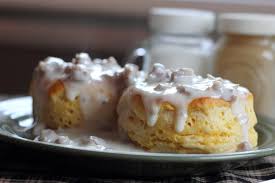 First, let me just say that the site I used to find this week's recipe has been my favorite so far. Lemon-sugar.com is very easy to use and has an interesting, yet simple design; I would recommend taking a look at it if you are a cook in desperate need of inspiration.
Anyway, enough with flattering my dear 'opponent' of sorts; I, upon searching the deepest recesses of the internet for an unbelievable two hours, have discovered a savory, non-dessert, recipe for this week that looked and seemed promising.
My grandma- a comparably peculiar woman- used to make 'Granny's packed gravy bundles,' a recipe of her own design for biscuits perfectly soaked in gravy. The recipe for these delicious treats, however- which were a favorite after school snack for all of her grand kids- lies wrapped up in a small metal box hidden somewhere upon the dusty shelves of a spider infested basement.. a basement of which I would prefer not to enter.
But, I was able to find a charming substitute at the following website that I mentioned previously; http://lemon-sugar.com/2013/12/biscuits-gravy-casserole.html/.
While the recipe itself is not exactly like gram's, the biscuits do come out of the oven with a similar, almost perfect taste. They are not too soggy, even after being baked with the gravy, and overall they have a nice flavor and texture; slightly spicy and peppery where the gravy is in the middle, with a crumbly, biscuit outside. Near perfection.
Recipe(easy to follow): BISCUITS AND GRAVY CASSEROLE
PREP TIME
15 mins
COOK TIME
20 mins
TOTAL TIME
35 mins
A different take on traditional biscuits and gravy, this easy breakfast casserole is a fun way to mix things up at the breakfast table.
Serves: Approx 8 servings
INGREDIENTS
1 can large, flaky biscuits (such as Grands)
½ pound ground breakfast sausage
INSTRUCTIONS
Preheat oven to 400 degrees (F).
Prepare a small casserole dish (approximately 7×10) with cooking spray. Set aside.
Open biscuits, and cut biscuits into quarters.
Layer half of the quarters in prepared pan.
Meanwhile, prepare gravy.
In a heavy skillet, brown the ground breakfast sausage over medium high heat until fully cooked.
Sprinkle the cooked sausage with 3 Tablespoons of flour.
Use a wooden spoon to stir flour into sausage until completely absorbed.
Lower heat to medium, and cook flour/sausage mixture for 3-5 minutes, stirring frequently.
Add milk, and stir to combine.
Add salt and black pepper.
Stir frequently until mixture comes to a slight boil.
Taste, and adjust seasonings as desired. (I usually add more black pepper)
If the gravy is too thick, add a bit more milk. You want the gravy to be thickened but not too thick, not "globby," it should still be slightly runny.
Pour gravy over the cooked biscuits.
Layer the remaining uncooked, quartered biscuits over the gravy.
Place casserole dish on a baking sheet, and bake for 20-25 minutes or until golden brown. If they start to over-brown, you can cover with foil for the last 10 minutes or so.
Leave a Comment
About the Contributor
Aurora Soural, Writer
Aurora Soural is currently a ninth grade student at the Altoona Area Junior High School. Aurora's hobbies include reading, writing, drawing and cooking.