Lion News
The force awakens students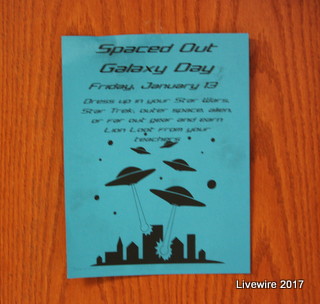 On Jan. 13, students will be able to choose from various costumes to wear to be a part of galaxy day as that is the school's theme.  
Outfit ideas that can be considered as galaxy could be characters from the movie Star Wars, Star Trek, aliens or any far out gear with galaxy prints on them.
"I am wearing a jacket with a galaxy print on it," eighth grader Piper Vallei said.
Some students may say they can not participate in the theme day because they do not have any galaxy items or any costumes.  That does not have to be a problem if they can go out and buy some clothing that is cheap.
Students can take part in it to get rewarded from teachers' lion loot.
That can result in using them to win prizes at the outdoor activities the school does like harvest day, or they can use seven lion loot to get into the reward movies.
This theme can get students excited because they can express the interests they have with the other students and teachers.
"Yes I am excited actually because I can't ever wear this jacket anymore so now I have a reason to wear it," eighth grader Vallei said.