Lion News
The book blizzard received over 100 books!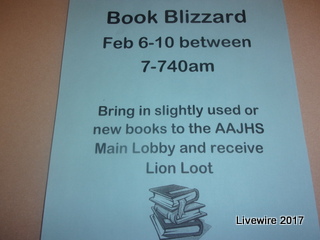 Students of all grade levels have been donating books the week of Feb.6 through Feb.10. All this week ninth grade student council members had tables set up in the lobby for students to donate their used books.
The students who donate will receive two lion loot per book; however, that isn't the only motive for the donations. All of the books will go to elementary schools so other kids can enjoy them. Some students cared a lot, and one kid named Ray Boose decided to donate 183 books.
"I was grateful that I had that many books to donate. I had so many just sitting around that I didn't read," eighth grade student Boose said.
Student council members assisted with the book collection.
"I think it is good that they are collecting books for the elementary schools," ninth grader Kayli Barefoot said.
In addition to that, the adviser of student council also has some part of this. This book blizzard gives kids a way to get rid of old used books, but someone created it to begin with. Jessica Hogan is the eighth and ninth grade student council adviser, and she, along with other teachers, came up with the idea.
"I was super pleased. I knew that the junior high students were generous, but I was excited to receive so many," ninth grade student council adviser Jessica Hogan said.
In conclusion, the book blizzard is officially over and there were over 100 books donated to the tables. The elementary students will now have a lot more books in their classrooms.