Yolo: Things to do before you die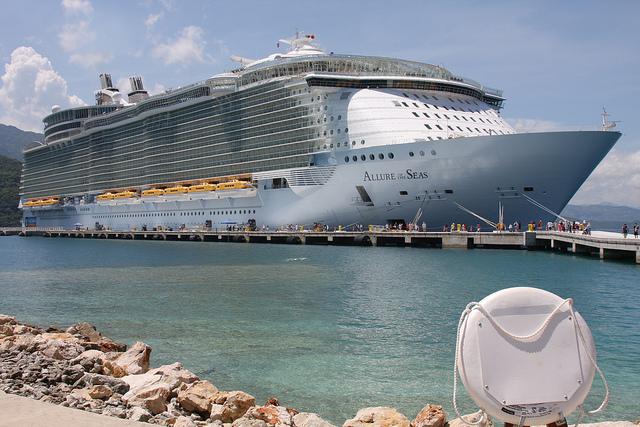 With the world's  new technology and better knowledge today; unbelievable cruise ships are being built. The Allure of the Sea and The Oasis at sea are the two largest cruise ships on earth. The Allure is only centimeters bigger than the Oasis. So, to take a cruise on the Allure is a must I must do before I die. I love all the amenities  on the cruise.
The Allure has the first ever boardwalk at sea. It has the first ever living garden at sea.  It even has the first Starbucks at sea. It has a central park, Broadway shows, zip lines, rock climbing walls, multiple pools, full size sport courts, ice skating rinks and of course parties for all ages.  People wouldn't believe how much this Cruise ship has.
Zip lining gives people a spine tingling rush view that will surely top people's  favorite cruising memories.  People are offered the opportunity to zip line from nine decks high. People then will race diagonally across  82 feet, as they soar from one end of the ship to the other. There is no charge to ride the zip lines and reservations are not required. People can just come on up to deck 16 and join in the fun and adventures with the sports staff!
The rock climbing walls are the most popular features and are available on all Royal Caribbean cruise ships. Whether it's the person's first time on a rock wall or they are a seasoned climber: there are challenges for all levels of experience. They provide all of the equipment, including shoes, helmets and harnesses. Rock climbing is free for all guests and reservations aren't necessary.
There are Two Flow Rider surf simulators, where people can learn to surf.  The sloped, wavelike surface of the Flow Rider is perfect for beginning, intermediate and advanced surfers. And the surrounding stadium seating and bar are great for surveying wipe outs.   It would be a great time to learn to surf without having to worry about being eaten by a shark or even drowning.
The cruise has ports in Fort Lauderdale, Florida; Nassau, Bahamas; Charlotte Amalie, St. Thomas; Philipsburg, St. Maarten; Fort Lauderdale, Florida. Giving people two ports they can depart from in the United States.
When looking at the deck plan, make note of the available neighborhoods. Allure of the Seas is built around the concept of neighborhoods. Each neighborhood has a distinct theme: Central Park, Boardwalk, the Royal Promenade, the Pool and Sports Zone, Vitality at Sea Spa and Fitness Center, Entertainment Place and Youth Zone making your trip fun a full filled adventure as you travel from country to country over the sea.
Book your trip today at: http://www.royalcaribbean.com/findacruise/ships/class/ship/home.do?shipCode=AL
Leave a Comment