Carve the Pow!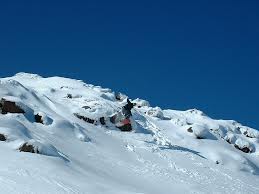 March madness is over at Blue Knob, you can still buy season passes for next season but they aren't half off. And Blue Knob is closed for the season. This season at Blue Knob has been better than any other season.
Seven Springs is open until Sunday and they are experiencing spring conditions. Seven springs is an hour and 37 minutes away from Altoona. The trip from Altoona to Seven Springs is almost an hour longer, but it is worth the trip. Seven Springs has a lot more to offer than Blue Knob based more on activities off the slopes. They have bowling, game rooms, mini golf and a roller skating rink. They also have clay shooting and fishing. And in the summer they have swimming activities.
I like snowboarding at Blue Knob because it is more in the woods and isn't that crowded. But when it comes to the park Seven Springs definitely has a better park. You can find out more information about Seven Springs at http://www.7springs.com/.
[snow_report]
Leave a Comment