Scrumpdidliumpcous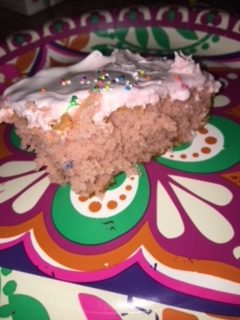 On this blog I will make a different dessert every week and share my experience with it, the recipe I used and whether or not I thought it was good or not.
Hello fellow hungry friends, this week we will be talking about my experiences in making strawberry cake. I will be telling you about what went down, how I made it and I will be giving you my review on it. So let's dive in!
When I got prepared to make my cake (I got my ingredients all measured and was all ready to go) I realized that I had no eggs! It was quite tragic actually. So, I quickly got my dad to drive me down to the store where we got the eggs and hurried home. Once I had the eggs and was content again, I started to make my cake.
First, I added the cake mix I used, Betty Crocker Extra Moist Strawberry Cake, to my mixing bowl. Then, I added one cup of water, a container of applesauce and three eggs. I decided to use applesauce instead of vegetable oil because applesauce makes the cake nice and moist, while vegetable oil drys out the cake. I then used my whisk and beat the mixture vigorously for two minutes. Once everything was all mixed together and it had a thick saucy consistency, I added it to my 13" by 9" baking pan (which I had sprayed the bottom of it with organic olive oil) and put it in the oven at 350 degrees.
While the cake was baking, I started on the icing. I had found some Betty Crocker White Icing in my cupboard and dyed it pink but decided to not use it because there wasn't enough. So I then took a container of Cool Whip out of the fridge, let it thaw and dyed that pink for my icing.
Once the cake had baked for twenty eight minutes, I took it out and let it cool for thirty minutes. Once it was cool enough to put the cool whip on, I spread the pink cool whip across the cake. I then added some rainbow sprinkles for some color and it was done!
Personally, I did rather enjoy the cake. It was nice and moist and the cool whip added a creamy texture to it. I guess in order to like strawberry cake you'd have to like strawberries. My family enjoyed the cake a lot and I would definitely make it again.
If you want to make it yourself here is the recipe:
-Betty Crocker Extra Moist Cake Mix
-1 cup of water
-1 container of applesauce or 1/2 cup of vegetable oil
-3 eggs
Directions:
Put all of the ingredients together in a bowl. Mix with a blender on medium or mix it by hand with a whisk for two minutes. Spray the bottom of a baking pan. Pour the mixture into the sprayed baking pan. Bake in the oven for twenty eight minutes at 350 degrees. Once the time is up, take the cake out and let it cool for thirty minutes. Decorate however you would like, and there you go, you have a strawberry cake!