Scrumpdidliumpcous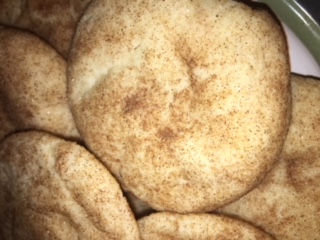 On this blog I will make a different dessert every week and share my experience with it, the recipe I used and whether or not I thought it was good or not.
This week on Scrumpdidliumpcous I will be discussing my experience in making snicker doodles. It's the beginning of a new year, so I decided to revert back to the classics. Let's dive on in!
First I got out a mixing bowl and put in the cookie mix, but alas, I was out of eggs yet again. So we drove down to the store and got the eggs. Then on the way inside the house my sister dropped the eggs and they all cracked. I had to work with what I had, so I picked the egg that was the least broken and used it.
Once I had added the egg and water into the cookie mix, I mixed it together until it was dough like.
I then put the cinnamon that came in the packet into a small bowl. I took a tablespoon to scoop the dough out, rolled the dough into a ball and rolled it around in the cinnamon. I placed aluminum foil on a baking tray and then put the balls of dough on top. I spaced them about two inches from each other and put them in the oven at 375 degrees Fahrenheit.
I baked them for about eight minutes and then set them out to cool.
Overall, I really liked this recipe. I ate eight of the cookies in one night because they were just that good. My mom liked them as well and so did everyone else in my family. They were nice and soft, and they were also warm from coming out of the oven. All and all it was pretty fantastic.
Here is the recipe if you would like to try it:
-Betty Crocker Snicker Doodle Mix
-1 egg
-1 tablespoon of water
Directions:
Preheat the oven to 375 degrees Fahrenheit. Take the cinnamon packet out of the mix and set it aside. Put the mix in a bowl with the egg and a tablespoon of water. Mix it together until it is dough like. Roll the dough into balls and cover in cinnamon. Cook in the oven for eight minutes and then let cool. Enjoy!