Scrumpdidliumpcous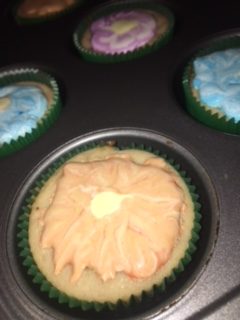 On this blog, I will make a different dessert every week and share my experience with it, the recipe I used and whether or not I thought it was good or not.
This week on Scrumpdidliumpcous, I made strawberry cupcakes for Mother's Day!
The very first thing I did was preheat the oven to 375 degrees Fahrenheit, and then I lined my cupcake pan with cupcake wrappers.
I then took out a medium bowl and combined sugar and butter together until it kind of looked like apple sauce. Then I beat in two eggs one at a time.
I set that bowl aside and mixed together flour, baking powder and salt in a separate bowl.
Once I had my separate bowls of dry and wet ingredients, I mixed the dry ingredients into the wet ingredients slowly and added milk in between each adding of the dry ingredients.
Then I measured out one cup of fresh strawberry and mixed them into the batter.
Once the batter was complete, I put the batter into the cupcake wrappers and put them in the oven for eighteen minutes.
While they baked, I put cool whip into different bowls and colored it. Then I put them in piping bags and let them harden up a bit in the freezer.
Once my cupcakes had cooled, I piped the cool whip onto the cupcakes in flower patterns.
Overall, they tasted pretty good. Although I did notice that they had a kind of flaky texture, almost like a biscuit. I think it might have been the moistness of the strawberries that gave them that texture. They were still good though.
I actually tried my own recipe for these cupcakes so if you would like to try these for yourself here it is:
2 cups flour
1/2 tsp. salt
2 tsp. baking powder
1/2 cup butter, softened
3/4 cup sugar
2 eggs
1 cup milk
1 tsp. vanilla extract
1 cup strawberries
Preheat your oven to 375 degrees Fahrenheit. Then, in a medium bowl, combine sugar and butter. Beat in your eggs one at a time. Combine flour, baking powder and salt in a separate bowl. Mix your dry ingredients with your wet slowly and add in milk in between each add in. Mix in your strawberries and then put your cupcakes in the oven for eighteen minutes.