Supercross: Monster Energy AMA 2013 Series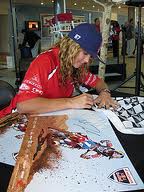 Rider of the Week: Ashley Fiolek
Birthday: October 22, 1990
Currently lives in: Florida
Bike: Honda CRF250R
Ashley Fiolek is known as the first woman to be apart of the Honda Red Bull Racing team. She was first shown to the world in 2008.
When she was just three, she was given her first bike. That was the day that started it all. Her first race was when she was seven. Since then, she has learned so much about what she needs to do in order to stay out in front. Learning to ride is not the easiest thing, especially when you have to learn under certain circumstances.
Out on the track, she looks like any other rider except for under the helmet, something is different. Fiolek is deaf, but does she show it? Absolutely not. She does not let anything stop her when she is doing what she loves.
Fiolek is someone that I can always look up to. For a girl to be a part of supercross is not something that happens on a regular basis. She is an inspiration to me, and probably to a bunch of other girls that want to ride, but are afraid to show people their true colors.
Fiolek is the definition of never giving up. She showed this to all riding fans in 2009 when she won a gold medal at the X Games.
She has also made an appearance on the ABC Family series, Switched at Birth, and she will also be in the second season of that show.
Leave a Comment