Kissed by a goddess: A guide to bring out your inner beauty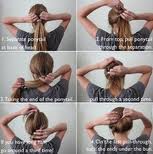 10  things you can do differently with your hair…

Are you tired of your hair looking the same all day everyday?  If so then you're in luck.  Here I have listed some easy, creative hairstyles you can try for a change.
For someone who's had ton of experience I know hair can drive people crazy.  If you're someone who is tired of having to straighten your hair everyday because its just plain, thick, puffy and ugly, or you're someone whose hair is too straight to curl and you want a new hairstyle you've come to the right place.  Try some of these fabulous looks and tell me what you think.
1.) Is your hair the type that's thick, puffy and just plain ugly?  Do you hate it so much that you straighten it every morning before school and on weekends just to look nice, even when you're tired of doing it?  If so then today is your lucky day because instead of straightening your hair you can make it look beautiful with curls.  If your hair is as thick and wavy as mine then what I'm about to tell/show you will work perfectly for you.  Okay so first things first, these are some ways to easily make your hair curly and cute without having to use and iron of any kind.
One my favorite ways, is to simply keep your hair wrapped up in a towel after you shower, until it drys, without brushing it out.  If you want your hair parted a certain way and evenly when you take it out of the towel, then after you shower, immediately brush it out, part it and then shake it out and wrap it in the towel.  Give it about an hour to dry.  Once you feel it has been long enough, take the towel out and there you have it a beautiful head of curliness.
Another easy, most popular way to curl your hair would be to scrunch it with mousse after washing your hair and brushing it out.  For those whose hair is naturally straight and have a hard time keeping it straight with a curling iron, the best thing and only thing I can say is to try braiding it before bed, preferably, after showering when its still a little damp. If you're really desperate and don't wanna braid it try using a crimper that most likely is your best bet.
2.) Have you ever woken up and just needed a quick fix?  Well boy, do I have news for you.  Instead of wasting time getting out the straightener try pulling your hair up for a change with a messy bun. Its easy and still works as a cute look.
To achieve a messy bun is quite simple.  If your hair is straight, pull it back into a ponytail.  Then twist it and coil it around to create the bun.  If there are a few hairs sticking out from the bun, it's okay.  After twisting it around secure it with  gum band.  Use bobby pins to keep some of the strands of hair in the bun, then lightly spray with hairspray.
On the other hand, if you have the thick, wavy type of hair, then after washing scrunch your hair with mousse or brush it out and shake it.  Once it dries, bend over and grasp all your hair putting it in a gum band as if you're about to put it in a pony.  Then wrap it around and get all of your hair in a bun formation and secure it with a gum band.  Any pieces left hanging use bobby pins to pull back and keep in place.
3.) Got straight, long hair and want a different way to wear it?  Try wearing this cute fancy bun for a change.  It may seem complicated to follow but once you see the pics, you'll know exactly what I am talking about.
First, part your hair evenly in the middle so you have two equally sides of hair.  Then hold while you pull them back into a pony almost as if you're splitting them in two.  Once back place a finger in the space between them and hold it there while you secure your pony with a rubber band.  Once the rubber band  is in place there should still be a gap separating the two sides above where they are held together.  The next step is to take the pony and bring it up and all the way down through the gap..You should definitely notice the two sides are almost twisted from each side back, but they are not.  Take the remaining pony,  bring it back up and instead of bringing it back down the whole way through the gap tuck it in and secure with a cute hair comb.  This style works great when you're dressing up for a special occasion, but could be worn for anything.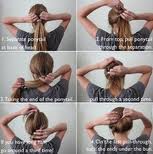 Wearing your hair up or down everyday can get a little boring, right? So try something different where it differently than you usually do for a change.  Change isn't always a bad thing you know. Try some of these styles for something different.
4.) Instead of just wearing your hair straight down give it a creative/fun look to it.  Try pulling your bangs back in bobby pins with your hair down.  Except give the bangs a little bit of a bump.  This is definitely a style used by many.
5.)  You can also try braiding the two front sides of your hair back around your head to form a crown and then put a gum band in it or use bobby pins to secure.  This is very cute when you want to look nice.
6.)  If you're someone who has side bangs ( which many people nowadays do have) instead of pulling your bangs back try twisting to the side and place a clip or bobby pin to hold.  If you want it to look even better try braiding it instead.
7.)  If your hair is long and curly, great, then try this.  Pick one side of you hair and take enough hair from the top of your part to make a braid.  Once you have your piece start to braid down the other side of your head.  Once you've finished braiding to the bottom of the other side place a gum band in it just for temporary.  Next bring all your hair over to the side of the braid to make a side pony.  take  the gum band out of the braid and hold the braid with the rest of your hair.  Place a gum band around all of the hair to the side including the braid with it to secure it.  You should clearly see the braid on the side running into the ponytail with curls.  To add to its cuteness add a headband.
8.)  Got long side bangs?  Try braiding them all the way to the other side to the back of your head putting it into a messy bun or ponytail.   It will look great! You can wear this anything.  Best thing about it, its quick and easy and looks fabulous.
9.)  Here's a cool style that's creative and something I am guessing not many have seen.  However, to do this you need to have long hair, otherwise it won't work.  Start with straight or wavy hair.  Then clip up a section of your hair on the top to the opposite side.  Take the section of hair below the one you just pulled up and loosely braid it, keeping it long.  Then free the top section of hair you put in a clip and wrap the braid around to the other side.  Use bobby pins to keep it there.  Once finished it looks like you're wearing a braided headband of hair.
10.)  Instead of changing the way you wear your hair, try getting it cut and styled differently.  You could even get highlights or dye your hair a different color.  Sometimes this is what most people need to start fresh and come up with new ways to wear their hair.  Try something different.  Don't wear your hair the same way everyday.  If you didn't like any of these styles come up with your own and start a new trend, how else would we have the styles we do today.  Change is good…Keep that in mind next time you're thinking about doing something different with your hair.
Leave a Comment