Weekly Words of Wisdom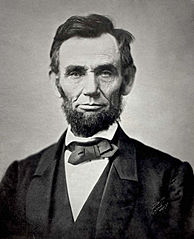 Who wrote the quote, background and what the quote means
"I am not bound to win, but I am bound to be true. I am not bound to succeed, but I am bound to live by the light that I have. I must stand with anybody that stands right, and stand with him while he is right, and part with him when he goes wrong."
-Abraham Lincoln
This quote means that no one is perfect. "I am not bound to win," means that whenever someone plays in a game, they are not always going to win; they will lose some games along the way. "but I am bound to be true," means that people will always try their best, and even if they lose, that will not change how they act. "I am not bound to succeed," means that sometimes humans will fail, but they have to learn to adjust to that and succeed the next time. "but I am bound to live by the light that I have," means that people will use what they have and try to succeed, but if they do not, then they were not meant to be playing that sport, or try extra hard in that subject.
"I must stand with anybody that stands right," means that humans should stay with the right people. Lincoln is trying to say that people want to be around someone that succeeds and that has similar interests as yourself. "and stand with him while he is right, and part with him when he goes wrong," means that everyone should stay with him when he helps people succeed and leave him when he does not help anymore, or he fails.
Lincoln wrote this poem, because he had many words of wisdom. He wanted to make people equal, and he made quotes about people. Often, people quoted what he said and it got around from people telling everyone. They all found these words to be true and inspiring. I think these words of wisdom will help me in life. It teaches a really good lesson, that is to be yourself and not to try and be someone you are now.
Leave a Comment