Universal Gaming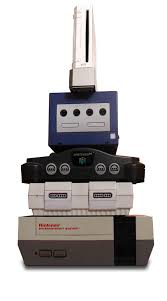 – News on the hottest gaming trends
Welcome to the new Livewire gaming blog! In this blog different games from all platforms will be discussed weekly. Reviews on games from platforms such as Wii U, 3DS, PS4, PC, XBOX One, and many more will be here. If anyone has any suggestions for games, feel free to express them in the comment section! Also, a simple rating scale has been developed for this blog. The score will be out of 100. Today though I would like to discuss which game will become Game of the Year! 2013 has offered some great feats in the gaming universe, but only one will become the winner. Down below is  list of the ones with a chance of victory.
5. BioShock Infinite (PS3, XBOX 360, PC)
courtesy of Devian Art
Starting off our list is a game that started off the year with a bang! BioShock Infinite, released in March, got extremely high ratings everywhere. Here it got a 95/100, and other game critics seem to agree!
4. The Last of Us (PS3)
courtesy of http://nl.wikipedia.org/wiki/The_Last_of_Us
The second game in the running is the Last of Us, which came out in June. Naughty Dog does it again with a game filled with action, adventure and wonderful graphics. Being critically acclaimed everywhere, here it has  96/100.
3. Grand Theft Auto V (PS3, XBOX 360)
courtesy of DevianArt
Just in time for school, Grand Theft Auto V made a smashing release in mid-September, making over 1 billion dollars in 3 days. The game has received higher ratings than the other ones listed on other critic websites, and here it got a 98/100!
2. Pokemon X/Y (3DS)
courtesy of Devian Art
The best selling turn-based strategy franchise makes a mega-evolution onto the 3DS in Pokemon X/Y. Featuring a complex storyline, wonderful graphics, extensive gameplay, and tons of Pokemon, X and Y has a good chance of winning Game of the Year! Here it got a 93/100, making it a great game to buy for 3DS.
1. Super Mario 3D World (Wii U)
courtesy of http://francoking2011.deviantart.com/art/Super-Mario-Bros-2011-259571899
Nintendo's mascot embarks on another great journey this year with superb graphics, excellent graphics, and a cast of quirky characters. This may not be Mario's best, but sure does leave an impression in the gaming world! It has been getting great reviews everywhere and gets a 96/100 here!
So, what do you think will be Game of the Year? Leave your comments below!
View Comments (2)