Festive Treat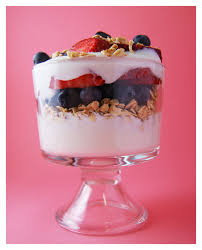 ~A dish to try on a holiday or a special/certain occasion~
Spring sports are in progress and that means there are many athletes practicing and playing games nonstop.  To help improve performances in games and practices try making a healthy treat for before or after practice or a game.  Try making a yogurt parfait to enjoy off practice.  It contains protein which is a great thing for athletes and is overall a very healthy snack.
Ingredients:
– A bowl
– Any fruit of choice (blueberries, raspberries, strawberries)
– Greek or fat-free plain yogurt
– Granola
Directions:
1. First put in a little granola and fruit in a bowl so they're evenly distributed through the whole thing.
2. Add the yogurt over the granola and fruit.
3. Add more granola and fruit over the yogurt.
4. Mix all together.
Leave a Comment