Festive Treat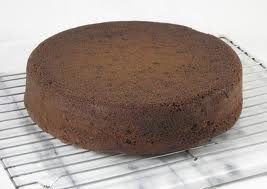 The social and different dances are coming up and students are starting to ask each other to go with them.  Nothing is better than presenting a special treat when asking a person to go to a dance with you.   Why not try making a simple cake?  The student could write social on the cake in white icing if they wanted to.  Store in an airtight container so it's fresh to eat later.
Ingredients:
1 ½ cups sifted cake flour
⅓ cup Dutch-process cocoa
1 tsp. baking soda
1 c. sugar
½ tsp. salt
1 c. strong brewed coffee, warm
⅓ c. light olive oil
1 ½ tsp vanilla extract
1 tablespoon old balsamic vinegar
White icing (optional)
Directions:
1. Preheat oven to 400 degrees.  Lightly coat an 8-inch round cake pan with with softened butter and dust with all-purpose flour.  Set aside.
2. Whisk the cake flour, cocoa, baking soda, sugar and salt together in a large bowl and set aside.  Stir the coffee, oil, vanilla and vinegar together and whisk into the flour mixture just until smooth.
3. Pour the batter into the prepared pan and bake in the center rack of the oven until a wooden skewer inserted in the center comes out clean- 25 to 30 minutes.  Cool completely in the pan on a wire rack.
4. Serve the cake, with about one cup deep chocolate glaze.  Cake can also be served plain alongside whipped cream or coffee ice cream.
5. Write with icing the phrase "Social?" (optional)
View Comments (1)