Festive Treat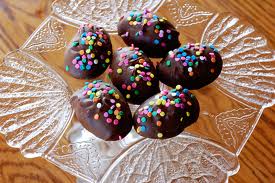 ~A dish to try on a holiday or a special/certain occasion~
 Easter Sunday is coming up, when families get together and enjoy a nice family meal together outside because the weather is getting warmer and sunnier. Why not make a cheerful and happy Easter treat to brighten up the mood even more.  Try making Chocolate Peanut Butter Eggs for everyone to enjoy.  Store them away in an airtight container so they can be eaten the next day also.
Ingredients:
4 cups powdered sugar
1 ½ cup creamy peanut butter
¼ cup butter
2-3 tablespoons milk
3 cups semi-sweet chocolate chips
1 tablespoons shortening
Directions:
1. Mix together powdered sugar, peanut butter and butter.  Add milk one tablespoon at a time until it becomes a nice workable dough. ( It will be like play dough and easy to work with.
2. Form dough into egg shapes.  Place in freezer for one hour.
3. Place chocolate chips and shortening in a glass measuring cup.  Microwave one minute at a time stirring in between until melted
4. Dip each egg in the melted chocolate.  Place on wax paper until set.Trim any excess chocolate off that may pool with a paring knife.
5. Decorate with royal icing and sprinkles (optional).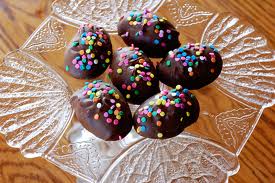 View Comments (2)